Attend Pets in Omaha's "Pick-a-Pooch" Adoption Day event!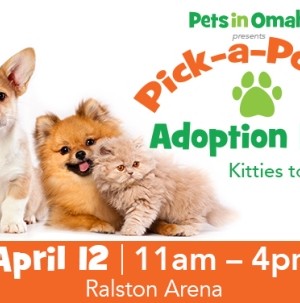 As we continue to grow here at Pets in Omaha, we want our impact to increase as well. Last year, our first-ever event included the collection of over $5,500 worth of supplies for Town & Country Humane Society. This April, we'll be hosting our second event, the Pick-a-Pooch Adoption Day at the Ralston Arena. We're excited for this event (plus another we'll be participating in later in April), along with more opportunities to build community and raise awareness for rescue and shelter operations.
On Sunday, April 12, from 11 a.m. until 4 p.m., join us at the Ralston Arena at 7300 Q Street. This event is designed to bring pet lovers together for a day of fun and opportunities to get to know some of our best local animal rescue groups and shelters. Here are the rescues and shelters that will be there with adoptable animals for you to meet and fall in love with:
Midlands Humane Society

Nebraska Humane Society
Town & Country Humane Society
Pug Partners of Nebraska
Hearts United for Animals
Wonder Weims Rescue
Little White Dog Rescue
Mid-America Boston Terrier Rescue
Hands, Hearts & Paws Rescue
Taysia Blue Husky and Malamute Rescue
Nebraska Dachshund Rescue
Along with adoptable animals, you'll find demonstrations from local pet professionals, fun for the kids with face painting and balloon animals, raffles, a silent auction, opportunities to meet local pet-friendly businesses, animal advocacy groups and much more.
Admission is $6 at the door unless you've got a discounted $5 ticket which can be purchased at a number of our Pet Partners' places of businesses. Kids 16 and under are admitted for free. Also, parking is free and the first 200 guests receive a free gift bag!
We are grateful for the sponsors who have sponsored the event already: The Green Spot, Steven W. Gustafson of Wells Fargo Advisors, LLC, Pets Earth, Three Dog Bakery and The Paw Spa Pet Resort. If you or your business would like to sponsor and reach a large audience, contact our founder Lee Legenhausen at lee@petsinomaha.com. Booths are selling out fast, so if you want to be a part of this event and reach a large audience, make contact today!
As we prepare for the event, more activities and giveaways are being added by the day, so this event is sure to be great fun for everyone. For more information, stayed tuned to our Website, Facebook Event Page and Twitter account. We hope to see you at the Ralston Arena on April 12!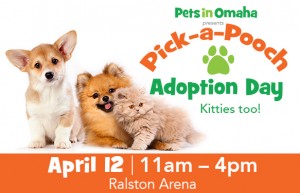 Here is a list of vendors who will be present at the event:
Author Shelley Wilson
The Green Spot
Gary Kudym of State Farm Insurance
The Nebraska Lottery
Against the Grain
DirecTV
The Yappy Pack
Bailing Out Benji
Melody Falcone Photo & Design
Bark Avenue
Urgent Pet Care
Clearview Pet Centre
The Omaha Dog Park Advocates
Dogtopia
Puppy Up!
Domesti-Pups
Kozy K9 Beds
Three Dog Bakery
Come Sit Stay
Invisible Fence
The Paw Spa Pet Resort
Pets Earth
All About Dogs
Dogs on Deployment
Long Dog Fat Cat
Dharma Dog Training
Poppin' Penelope Balloon Artist
Happy Faces – Face Painting by Patti
SYNLawn of Nebraska
Dog Guard Nebraska