Pets in Omaha's 2018 Pick-a-Pooch Adoption Days – Details, Sponsors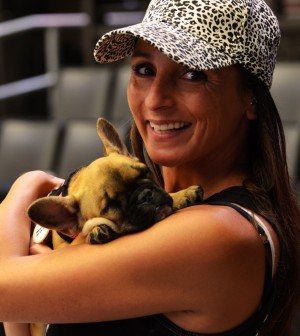 Event season is here for area pet businesses, shelters, rescues, and everyone else! A big event for all is Pets in Omaha's Pick-a-Pooch Adoption Days and, once again, it's one of the summer's premier pet events.
The fourth year of Pets in Omaha's Pick-a-Pooch Adoption Days will include much of what attendees are used to:
FREE admission
dozens of rescue groups and shelters
adoptable animals
over 100 pet-loving vendors
free parking
all indoor events
On July 14 and 15, 2018, join us at Ralston Arena for one of the area's top pet events! This post will be updated as new details are announced- make sure to watch the Pets in Omaha Events Page, keep an eye out for posts about the show on Facebook, expect email updates if you're a subscriber (if not, enter your address in the subscribe field atop our homepage), and watch for other promotion on TV, radio, and your favorite pet business' social channels!
Find the Pick-a-Pooch Facebook Event page here.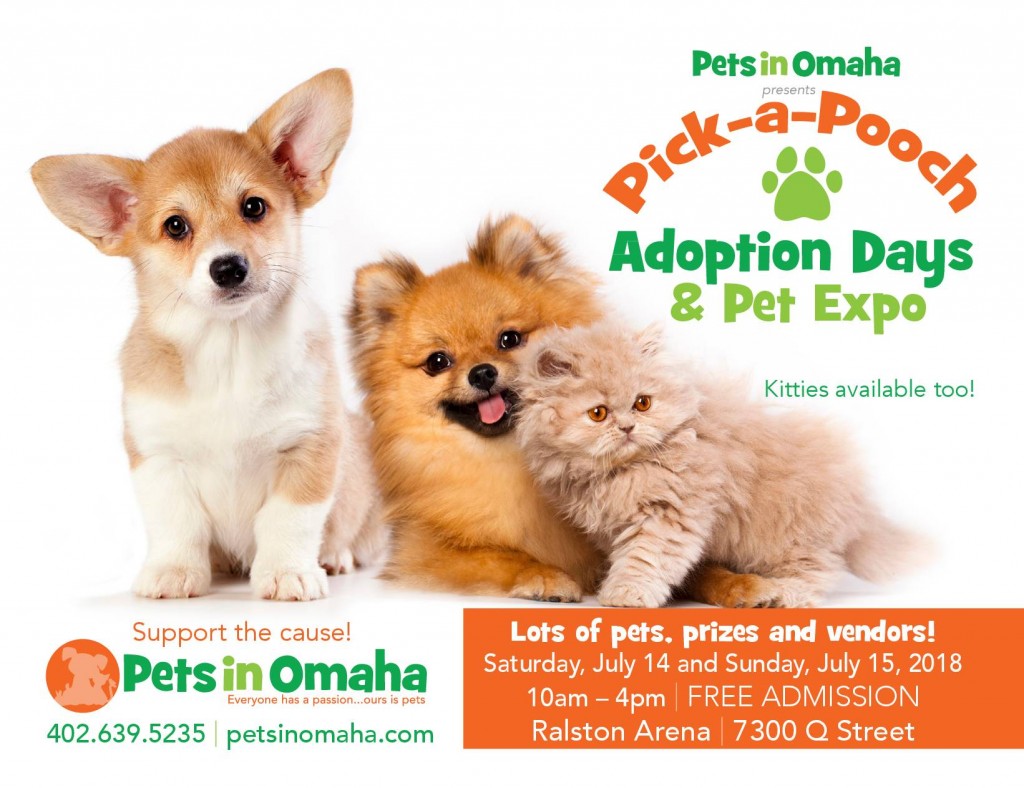 Would you like to attend the event as a vendor or shelter/rescue group? Contact Lee Legenhausen via email at lee@petsinomaha.com. Thanks to the folks who have already sponsored the event (look for them at the show!):
Sirius Veterinary Orthopedic Center – Platinum Sponsor
Pets Earth – Platinum Sponsor
The Paw Spa Pet Resort – Platinum Sponsor
Dogtopia – Platinum Sponsor
Urgent Pet Care – Diamond Sponsor
Long Dog Fat Cat – Diamond Sponsor
Kangen Water of Omaha  – Diamond Sponsor
Green Spot – Diamond Sponsor
Come Sit Stay – Diamond Sponsor
Speed Pro – Diamond Sponsor
Renewal by Anderson – Gold Sponsor
Invisible Fence – Silver Sponsor
Linda Birge –Farmers Insurance – Silver Sponsor
Younique – Silver Sponsor
As of May 9, 2018, we've confirmed these rescue/shelter/educational groups will be in attendance.
Yappee Pack
Nebraska Dachshund Rescue
Golden Retriever Rescue In Nebraska
Bailing Out Benji
Northern Plains Boxer Rescue
SNAFU Rescue
Little White Dog Rescue
Town & Country Humane Society
Nebraska Humane Society
Hands Hearts & Paws
Muddy Paws
Husker Weim Rescue, Inc.
Big Dogs Huge Paws 

Second Chance Pups 

Mid America Boston Terrier Rescue
Hearts United for Animals
Taysia Blue Siberian Husky and Alaskan Malamute Rescue
R.U.F.F. Rescue
Basset and Beagle Rescue of the Heartland
Italian Greyhound Rescue of NE and IA
And thanks to these vendors, you'll be able to shop while you check out the various humane organizations and adoptable animals!
Urgent Pet Care
Linda Birge –Farmers Insurance
Real Time Pain Relief
Leaf Filter
Nature Dog
Mary Kay
Monat
Traci's Fun Creations
Senegence/ Lipsense
This & That AK
Ugly Mutts Pets
Young Living
A A  Windows N Doors
Plexus Worldwide
NRF Pathways-Life Vantage
Kangen Water of Omaha
Knots of Bows
Omaha World Herald
Sirius Veterinary Orthopedic Center
Mazzy Co
Domesti-PUPS
Green Spot 
Come Sit Stay
Dorwart Law
Restore Chiropractic
Thrasher, INC
2 paws 4 u
DogWatch of Omaha
Pawsitively Stunning Boutique
Heartland Mastershield
Celerion
Absolute Security
Nebraska Dog Trainers
Scentsy               
Younique
Raising Canes
Dharma Dog Training
LuLaRoe
Bark Avenue
Renewal by Andersen
B.A.D. Collars
Whats's Buggin' Ya Pest Control
Long Dog Fat Cat
Rescue Paws Apparel
Jumpers 4 You  (Bounce house)
PetSmart
Invisible Fence
Pets Earth
My Serenity Body Lotion
Tupperware
Edward Jones
Jean's Glass Art
Cat Grooming by Jenny
CDE Animal Cages
Ralston Vet
Morgan's Munchies
Woof & Whiskers
Speed Pro
Afloat Wellness
Loveland Family Chiropractic
3 Pug Designs
The Sola Company
Hiker Dog
Great Iowa Pet Expo
CBS Home Real Estate – The Beers Team
Elite Filtration
The Paw Spa Pet Resort
Omaha ATA Martial Arts
Dogtopia
CostCo Wholesale
Funki Dori
EntreManure
Doggurt
Awaken Chiropractic
DOGonGear
Meylor Chiropractic
Young Chiropractic and Rehabilitation Center
Gigi's Cupcakes
afloat: mind + body = wellness
Whisper in my Ear
Eat Fit Go
Krissy's Pet Portraits
Norwex
West Omaha Pet Wants
Catered Bowl
Pet Wand
Powerband.US
Gray's Raw Diet
Pet Food Drive benefiting local humane organizations
Each year at our Pick a Pooch Adoption Days event, we've got demonstrations, raffles, and more. Last year's event featured a showing of the documentary Dog by Dog as part of our educational outreach. This year, we're happy to announce that we'll be collecting dog and cat food in what we hope becomes Omaha's largest-ever pet food drive.
During the Pick a Pooch events on July 14/15, 2018 from 10 am to 4 pm, we'll have a POD moving container in front of Ralston Arena. Attendees are encouraged to bring any kind of cat or dog food to the event to place in the container. The food will be distributed to local shelter and rescue organizations as a way to lessen these humane organizations' financial burden that comes with caring for displaces animals.
With the help of our sponsors (Broadmoor, Gary Kudym of State Farm, Linda Birge of Farmers Insurance, Zesto's in Elkhorn, and Nature Dog), we aim to make this event not only a great opportunity for shelters and rescues to show off adoptable animals, but to be a source of relief for the humane groups that care for so many of our area's homeless animals.
If you're coming to the event (or if you'd like to just donate), bring any kind of dog or cat food to Ralston Arena, 73rd and Q Streets in Ralston, between 10 am and 4 pm, July 14 and 15. Our local shelter and rescue organizations thank you in advance!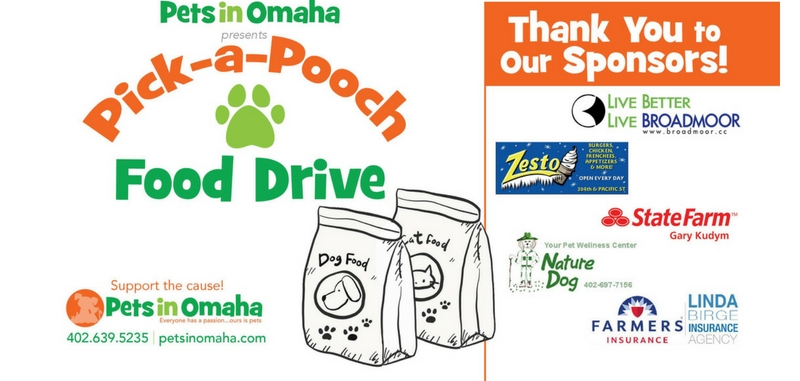 Raffle Information
As part of the annual Pets in Omaha Pick a Pooch Adoption Days festivities, there's a raffle. On top of meeting over 20 shelter and rescue organizations at our yearly event, you'll find over 100 pet-loving vendors, demonstrations, and more this July 14/15, you'll have a chance to win some great raffle prizes.
"Last year, we had many happy winners," says Lee Legenhausen, founder of Pets in Omaha. "The raffle is fun and gives people a chance to win cool stuff, plus you're helping the animals!"
The grand prize in 2018 is a shadow box containing a great image of the greatest basketball player in history, Michael Jordan. Oh- and there's an autographed Air One Jordan shoe valued at $4,000! The item comes with a certificate of authenticity.
If you don't happen to need an MJ sneaker, enter the raffle to win the following:
Two tickets to see Hall & Oates at Omaha's CenturyLink Center
A 3-night stay in Las Vegas
A 5-night stay in Aculpoco
Raffle tickets are $5.00. Discounts are offered for multiple ticket purchases, too! Twenty bucks gets you five tickets,  $50.00 is good for 12 tickets and $100.00 gets you 25. Tickets can be purchased anytime between now and the end of the 2018 Pets in Omaha Pick a Pooch Adoption Days on July 14/15.
To purchase at the event, simply find our raffle table at the front entrance of Ralston Arena (7300 Q St., east entrance). If you'd like to buy before, call Lee at 402.639.5235, email him at cyberlee3@cox.net, or send a Facebook message on Pets in Omaha's Facebook page.
On top of all this great stuff to see and take in, we'll have a number of speakers and demonstrations happening both Saturday and Sunday. Here's a tentative outline to keep in mind:
Here's a tentative schedule of events to follow while you visit this weekend!
Pets in Omaha / Pick-A-Pooch Event
Speaking Agenda
Ralston Arena ~ July 14 & 15, 2018
10 a.m. – 4 p.m.
11:00 a.m.       Pets in Omaha                                                           Lee Legenhausen
Founder
11:00 a.m.       Nebraska Humane Society                                      Pam Wiese
Vice President, Public Relations        
Cat-Astrophe:  Free and Discounted Kitties
Get Involved
Spotlight Events
11:30 a.m.       Dharma Dog Training                                              Kelley McAtee
Founder and Master Trainer
Alternative Training Options
Lowering Pet Return Rates / Why Dogs End Up in Shelters
Conversational Leash Work / Mental Health for Dogs – Demonstrations
12:00 p.m.      Bailing Out Benji                                                      Mindi Callison
Executive Director, Founder
How to Humanely Acquire a Pet                                            and Nebraska Team Leaders
Pet Stores and Puppy Mills
1:00 p.m.        Whisper In My Ear                                                    Cindy Downing
                                                                                                            Animal Communicator and
What is Your Pet Trying to Tell You?                                                 Evidential Medium
Demos and Mini Medium Reading
1:30 p.m.        Midlands Humane Society                                       Kori Nelson
Director of Development
History of Midlands Humane Society                                     and Marketing
Volunteer Program / Need for Fosters
Upcoming MHS Fall Events
2:00 p.m.        Dharma Dog Training                                              Kelley McAtee
Founder and Master Trainer
Responsible Dog Ownership
How to Advocate for Your Dog in Public
2:30 p.m.        Bailing Out Benji                                                      Mindi Callison
Executive Director, Founder
History of Bailing Out Benji                                                     and Nebraska Team Leaders
Dog By Dog
*photo credit: Aubree Sweeney