Pick- A -Pooch
Event season is here for area pet businesses, shelters, rescues, and everyone else! A big event for all is Pets in Omaha's Pick-a-Pooch Adoption Days and, once again, it's one of the summer's premier pet events.
The fourth year of Pets in Omaha's Pick-a-Pooch Adoption Days will include much of what attendees are used to:
FREE admission
dozens of rescue groups and shelters
adoptable animals
over 100 pet-loving vendors
free parking
all indoor events
a pet food drive that will benefit area shelters and rescues! Bring any type of dog or cat food to the event and we'll distribute the food to humane organizations upon the weekend's conclusion. Click here for details.
On July 14 and 15, 2018, join us at Ralston Arena for one of the area's top pet events! This post will be updated as new details are announced- make sure to watch the Pets in Omaha Events Page, keep an eye out for posts about the show on Facebook, expect email updates if you're a subscriber (if not, enter your address in the subscribe field atop our homepage), and watch for other promotion on TV, radio, and your favorite pet business' social channels!
Find the Pick-a-Pooch Facebook Event page here.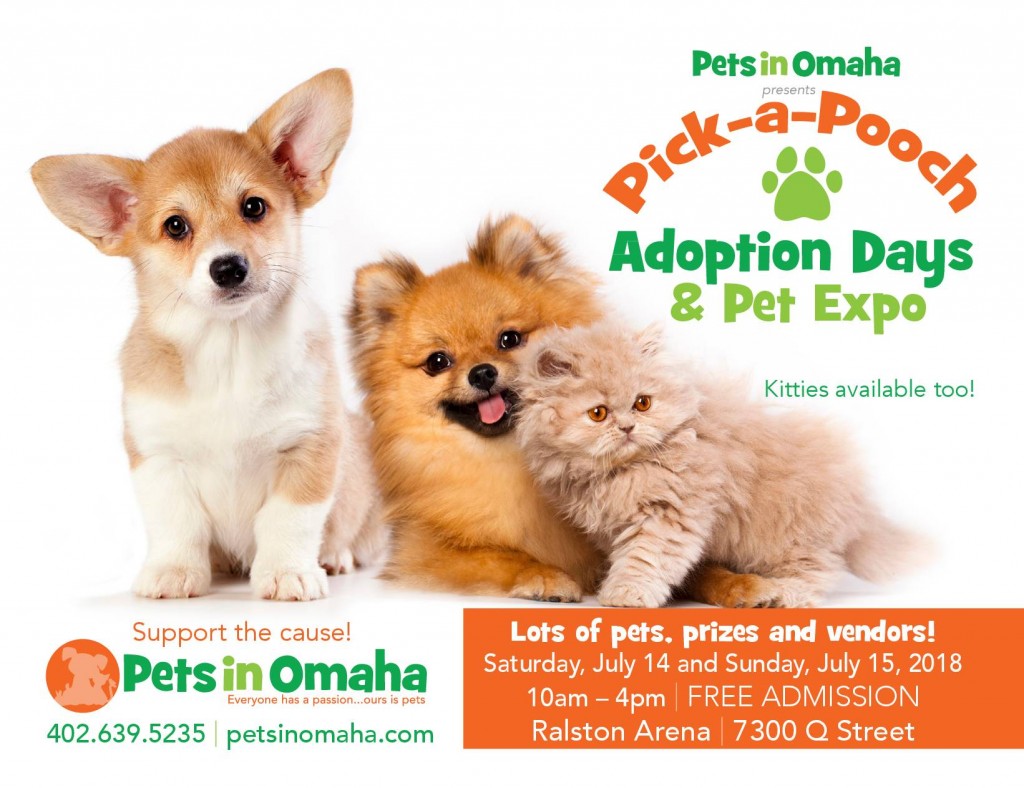 Would you like to attend the event as a vendor or shelter/rescue group? Contact Lee Legenhausen via email at lee@petsinomaha.com. Thanks to the folks who have already sponsored the event (look for them at the show!):
Sirius Veterinary Orthopedic Center – Platinum Sponsor
Pets Earth – Platinum Sponsor
The Paw Spa Pet Resort – Platinum Sponsor
Dogtopia – Platinum Sponsor
Urgent Pet Care – Diamond Sponsor
Long Dog Fat Cat – Diamond Sponsor
Kangen Water of Omaha  – Diamond Sponsor
Green Spot – Diamond Sponsor
Come Sit Stay – Diamond Sponsor
Speed Pro – Diamond Sponsor
Renewal by Anderson – Gold Sponsor
Invisible Fence – Silver Sponsor
Linda Birge –Farmers Insurance – Silver Sponsor
Younique – Silver Sponsor
——————————–
As of May 9, 2018, we've confirmed these rescue/shelter/educational
groups will be in attendance.
Yappee Pack
Nebraska Dachshund Rescue
Golden Retriever Rescue In Nebraska
Bailing Out Benji
Northern Plains Boxer Rescue
SNAFU Rescue
Little White Dog Rescue
Town & Country Humane Society
Nebraska Humane Society
Hands Hearts & Paws
Muddy Paws
Husker Weim Rescue, Inc.
Big Dogs Huge Paws 

Second Chance Pups 

Mid America Boston Terrier Rescue
Hearts United for Animals
And thanks to these vendors, you'll be able to shop while you check out the various humane organizations and adoptable animals!
Urgent Pet Care
Linda Birge –Farmers Insurance
Real Time Pain Relief
Leaf Filter
Nature Dog
Mary Kay
Monat
Traci's Fun Creations
Senegence/ Lipsense
This & That AK
Ugly Mutts Pets
Young Living
A A  Windows N Doors
Plexus Worldwide
NRF Pathways-Life Vantage
Kangen Water of Omaha
Knots of Bows
Omaha World Herald
Sirius Veterinary Orthopedic Center
Mazzy Co
Domesti-PUPS
Green Spot 
Come Sit Stay
Dorwart Law
Restore Chiropractic
Thrasher, INC
2 paws 4 u
DogWatch of Omaha
Pawsitively Stunning Boutique
Heartland Mastershield
Celerion
Absolute Security
Nebraska Dog Trainers
Scentsy               
Younique
Raising Canes
Dharma Dog Training
LuLaRoe
Bark Avenue
Renewal by Andersen
B.A.D. Collars
Whats's Buggin' Ya Pest Control
Long Dog Fat Cat
Rescue Paws Apparel
Jumpers 4 You  (Bounce house)
PetSmart
Invisible Fence
Pets Earth
My Serenity Body Lotion
Tupperware
Edward Jones
Jean's Glass Art
Cat Grooming by Jenny
CDE Animal Cages
Ralston Vet
Morgan's Munchies
Woof & Whiskers
Speed Pro
Afloat Wellness
Loveland Family Chiropractic
3 Pug Designs
The Sola Company
Hiker Dog
Great Iowa Pet Expo
CBS Home Real Estate – The Beers Team
Elite Filtration
The Paw Spa Pet Resort
Omaha ATA Martial Arts
Dogtopia
CostCo Wholesale