Pick-a-Pooch Event Promotions, News and notes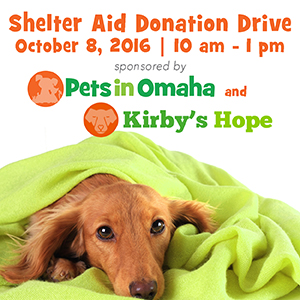 Pets in Omaha's third installment of the "Pick a Pooch Adoption Days" is only one month away.
We'll have over 70 vendors and more than 25 rescue/shelter groups at the Ralston Arena (7300 Q Street in Omaha) on July 16-17. We're also showing the nationally-recognized documentary, "Dog by Dog" on Saturday night, post-show. More details to come on the showing.
In the meantime, you'll want to know that we've got some great raffle items for the show.  Raffle tickets are $5 and your ticket purchase helps us make this event free to the public. You could win one of many prizes, including tickets to the Nebraska vs. Oregon football game in Lincoln, Sept. 17, 2016, or an autographed Squier Fender guitar signed by The Eagles, including the late great Glenn Frey. The estimated value of the guitar is $5,000. You can also win tickets to an Omaha Jimmy Buffett concert in September. Winners will be announced on July 17- you don't need to be present to win, we'll be in contact and ship to you if you win. We'll contact winners soon after the show.
We are also excited to announce we are starting our nonprofit organization, "Kirby's Hope." From this moment on, a portion of every advertising dollar will go to Kirby's Hope and will be used to further initiatives like education and promoting responsible pet ownership.
If you'd like to purchase raffle tickets, you can do so at the show. If you'd like to buy before the show, contact Lee Legenhausen at cyberlee3@cox.net or call him at 402.639.5235.  Paypal can be used to buy raffle tickets as well; Lee's email listed above is where you'll send your payment.