September Pick-a-Pooch Adoption Day Approaching!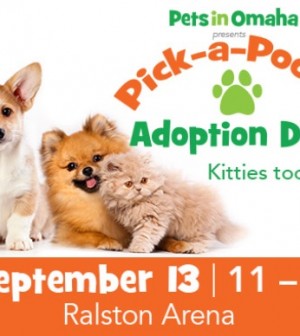 Pets in Omaha is excited to bring the second edition of its Pick-a-Pooch Adoption Day to the Ralston Arena from 11 a.m. until 4 p.m. on Sunday, September 13.
Our first event resulted in shelters and rescues completing over 30 adoptions and we're excited to bring the community together again to facilitate more in September. Area rescue and shelter organizations will be well-represented once again, as will vendors and pet professionals from around the Metro. Over 2,000 area pet lovers attended the April event.
Admission is $7 and anyone 16 and under is admitted for free.
Attendees can bring their well-behaved pups to the event on a non-retractable leash.
Among the participants in this edition of our Pick-a-Pooch Adoption Day are The Nebraska Humane Society, Big Red Rescue, MidAmerica Boston Terrier Rescue, Little White Dog Rescue, Pug Partners of Nebraska, Town & Country Humane Society, Taysia Blue Siberian Husky Rescue, Hearts United for Animals, Midlands Humane Society, Midwest Dog Rescue Network, RUFF Rescue, Basset & Beagle Rescue of the Heartland, Muddy Paws Second Chance Rescue and Heartland Greyhound Adoption.
Come out Sunday, September 13 from 11 a.m. until 4 p.m. to meet some of the area's greatest humane organizations, get to know pet professionals from many disciplines and learn about  area pet-loving businesses, too!
A note for those coming in hopes of meeting a new forever friend:
While shelter organizations may be able to facilitate an adoption on the day of the event, rescues will not. The process is much more than a "I want that one… OK, here you go!" situation. If you are unfamiliar with the Rescue Adoption Process, please take a look at this article detailing the ins-and-outs of adopting from a rescue.
We look forward to seeing you at the Ralston Arena! Be one of the first paid attendees and get a free gift bag thanks to our partner, The Green Spot!