5th Anniversary Series: Meet our Pet People, including Kent Pavelka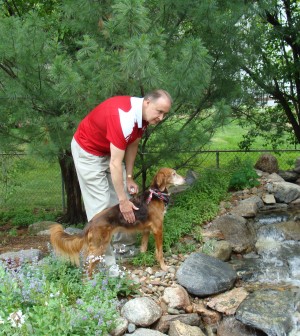 To celebrate five years of serving the pet and business communities here in Omaha, we're sharing five stories that exemplify what we think our content can do for Omaha and its pet lovers. Thanks to ComeSitStay, one of our long-time pet partners on Pets in Omaha, we're bringing readers our 5th Anniversary Series. Stay tuned for all posts in the series between now and the end of the month.
Our Pet People series features some of the most-read stories we've published during our first five years. We highlight local personalities whom share in our love for animals. We've have featured folks you know and others you likely didn't before reading. From television news anchors to rescue and shelter volunteers, we've introduced you to dozens of people we are proud to call our Pet People.
The very first profile article published on Pets in Omaha (Sept. 2013) featured long-time voice of the Huskers Kent Pavelka. Click here to read his story.  Kent is a regular at our annual Pick-a-Pooch Adoption Days event and is a fun follow on Twitter.
Read any and all other Pet People features by checking out our Pet People page and stories on Malorie Maddox, Kristen Renton, Billy McGuigan and many more.
Thanks to ComeSitStay for sponsoring our birthday celebration! Enjoy this story and stay tuned between now and the end of September to learn and re-learn how  part of the pet community we love to live in.
Learn more about ComeSitStay here  and be sure to "like" and follow them on Facebook.