BarkAID comes to Omaha, benefits Muddy Paws Second Chance Rescue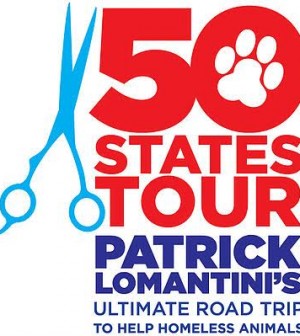 BarkAID, established in 2010, is a self-funded, registered 501c3 non-profit organization based in Kansas. Their mission is to raise funds and awareness for homeless animals, as well as educate people about what is happening with animals in their communities.  BarkAID raises funds for shelters and pet adoption organizations in all 50 States. BarkAID's largest fundraiser is the 50 States Tour.  The 50 States Tour was created by Patrick Lomantini.  Patrick is a master stylist and two time world record holder who has found a way to marry his passion for hair and his love for animal rescue.
The BarkAID tour stops in Omaha on August 30, 2016 and will benefit Muddy Paws Second Chance Rescue. Team Lomantini and Muddy Paws have teamed with Novel Hair Salon and Spa at 1020 S. 74th Plaza for this fun event. Appointments are being accepted now and can be made by calling the salon at 402-399-9100. The event will run from 9:30a.m. to 8:00p.m. Cuts are dry cuts and can be completed in about 15 minutes. Additional services will be offered by the salon to support the animals of Muddy Paws Second Chance Rescue.
50 States Tour Fun Facts:
91 day tour from July 15 – October 20
18,000 miles traveled by car plus flights to Hawaii and Alaska
Benefiting 74 shelters and rescues
Approximately 5,500 hair cut appointments to be scheduled
Goal to raise over $100,000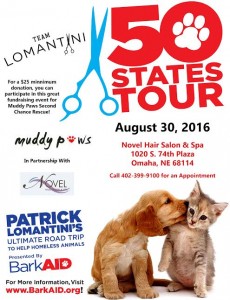 About Muddy Paws Second Chance Rescue
Muddy Paws Second Chance Rescue is a 501(c)3, not for profit organization, formed in 2014 by a small group of devoted animal lovers, in the Council Bluffs/Omaha area. We are an all-breed rescue foster care organization. All our rescue dogs live in the homes of our volunteers can be found. We also offer supportive training and financial services to help keep animals at risk of losing their homes with their families.
Below, find five dogs that are currently seeking homes with Muddy Paws Second Chance Rescue!