Check out Long Dog Fat Cat's Baked Goods!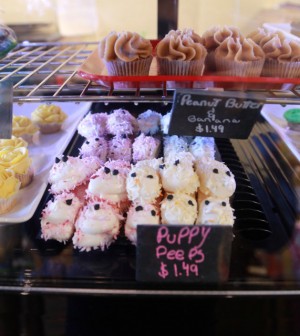 Along with selling specialty dog food, chews, and much more, Long Dog Fat Cat (LDFC) has a gourmet dog treat kitchen that produces some unique and delicious treats for your pups!
The Long Dog Fat Cat bakery is run out of the kitchen in its Loveland location (90th and Center) and provides cookies, pupcakes, frozen yogurt, and personalized birthday cakes to happy customers at Loveland and Village Pointe (168th and Burke). Each item is hand-frosted and baked fresh using only high-quality, dog-friendly ingredients.
As a business, Long Dog Fat Cat operates under the belief that your dog deserves the best food available- a belief that the bakery strives to uphold. Everything from the specialty flours used in the cakes to organic meats and produce used as treat filling stands as a testament to Long Dog's standard of quality.
"We hope to be able to provide a fun and unique service to the dog families of our community," says Eric Nault of the LDFC Bakery.
Click here to find Long Dog Fat Cat on the web and follow them on Facebook while you're at it.