COVID-19 and Pets: What You Need to Know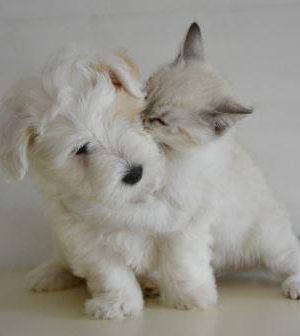 Can pets get COVID-19? Can cats and dogs spread coronavirus to humans? There's a lot to learn about the new novel coronavirus but one thing is clear – the spread of COVID-19 is occurring from person to person. There is no known reason to believe – or even suspect – that pets can spread COVID-19 to humans. Let's take a closer look at what the CDC and other health authorities have learned to date.
Cats and dogs have tested positive for COVID-19.
While there is no evidence that pets can spread COVID-19 to humans, there are a few cases in which dogs and cats have tested positive for COVID-19 after being exposed to humans with the virus.
Nadia, the first Bronx zoo tiger that tested positive for COVID-19, is believed to have been exposed to an asymptomatic keeper. Nadia, three other tigers, and three lions experienced mild symptoms including a dry cough and decreased appetite, but they responded well to treatment.
Two cats in New York tested positive for COVID-19. Although the cats were from different neighborhoods, both had mild respiratory symptoms, and both are believed to have caught the virus via contact with humans. The owner of the second cat tested positive for COVID-19 before the cat showed signs of illness and it's worth noting that a second cat belonging to the same family showed no symptoms at all.
A few dogs have tested "weak positive" for COVID-19, but they didn't suffer from the same respiratory symptoms the cats had. Health officials note that there is no link between the canine coronavirus and COVID-19; the term "coronavirus" is used to describe a broad range of viruses with a similar "corona" structure.
Understand how COVID-19 is transmitted.
While it is possible to catch COVID-19 after touching a contaminated surface and then touching your face or eyes, the most common means of transmission is via person-to-person contact. According to the CDC, most people who get COVID-19 have been:
In close proximity to an infected person (within about 6 feet)
Exposed to the respiratory droplets that hang in the air after an infected person sneezes, talks, sings, or coughs
Since the virus that causes COVID-19 spreads easily and efficiently, social distancing, and careful hygienic practices are key to keeping yourself, your family, and your pets safe.
You can protect your pet from COVID-19.
Taking precautions to stop the spread of germs is essential for protecting yourself and your family from COVID-19. The same precautions will help you protect your pet. Following guidelines for safe social distancing, washing your hands frequently, not touching your face, and keeping surfaces sanitized are important steps for reducing risks. In addition:
Remember that COVID-19 is easily transmitted even when a carrier is asymptomatic. 
Follow guidelines set forth by local authorities. 
When walking your pet, have them practice social distancing, too. Say hello from at least six feet away and don't let others touch your pet. 
Avoid dog parks and other places where people and dogs tend to congregate.
If you need to take your pet to the vet, keep them in a large dog crate or carrier.
Cats can catch COVID-19 and although symptoms in known cases have been mild so far, it's important to keep your pet from coming into contact with other humans or cats who might be carrying the virus. If your cat is normally an indoor / outdoor pet, try to keep them in the house rather than allowing them to roam.
It also makes sense, therefore, to include your pets in your quarantine/lockdown measures.
Your pet doesn't need to wear a mask.
We've seen quite a few photos of pets (particularly dogs) wearing masks while walking in high-traffic areas. While this might seem like a good idea, the truth is that masks can make breathing difficult for your pet – and the primary reason for humans to wear cloth face covers in public is to prevent their own secretions from spreading and to slow the spread of the virus.
It's OK to visit the vet if needed.
Veterinarians have been deemed essential, and are open for services including vaccines, spay and neuter procedures, surgeries, and more. If your pet needs to go to the vet, it's likely that you'll transfer them to a clinic employee in the parking lot and wait in your car while your pet is being seen. Many vets are offering telemedicine in addition to practice visits; you'll want to call your vet to learn how they're operating.
Take special precautions if you are sick.
If you feel sick, or if you have been diagnosed with COVID-19, try to have someone else care for your pet. If that's not possible and you are caring for your own pet while you're not feeling well, take the following precautions:
Avoid snuggling and don't let your pet sleep with you. Don't worry – remember this won't last long. Make sure your pet still feels loved from a safe distance.
Wash your hands before and after touching your pet and items that your pet uses.
Wear a cloth face cover when you care for your pet.
Final thoughts
Call your healthcare provider if you exhibit symptoms of COVID-19, and call your vet if you think that your pet might be sick.
While you're healthy, identify someone who can care for your pet in case you become ill. Prepare a pet supply kit with all the food, medications, bedding, medical records, and other essentials that your pet might need in case they need to be boarded or stay with a friend. It's best to be well-prepared.