Dogs die in an Omaha house fire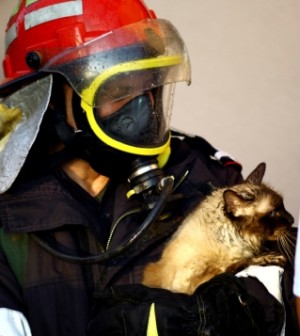 On Tuesday, two dogs tragically died in a house fire near 69th and Spencer Street in Omaha. Luckily, no human lives were lost. One woman has been hospitalized due to smoke inhalation and investigators are still looking into the cause of the fire.
We don't know whether the home was equipped with any signs or stickers that would alert first responders that animals were present in the home, and it's unclear whether knowing that would have saved the dogs, but this incident is a reminder of how important such notification can be.
An example: 911 is called and firefighters arrive at a house fire. The most important thing for first responders is to prevent the loss of life. Anyone entering the home is obviously looking for people who need help, but it may not be automatic to be on the lookout for pets. If firefighters have no indication that dogs, cats, or other pets are inside, they are less likely to hunt for them.
How do you notify first responders that you've got pets in your home?
The easiest way is with a sticker or sign in a window or a door stating that you've got pets. Details should be provided as to what all should be accounted for in a fire.
An example: a sticker that simply says that you've got a dog and a cat will give responders a quick note about what to look for.
These stickers can be found in a number of places. A simple Google search for "first responder sticker for animals in home" will show you many examples and links to where you can purchase them. Etsy and Amazon are popular places and designs vary. These signs and stickers are just a couple of bucks, so it's something anyone with a pet can and should have in windows at home.
Click here to see options available for first responder stickers for animals in home.