Fat Pets May Not Be So Cute After All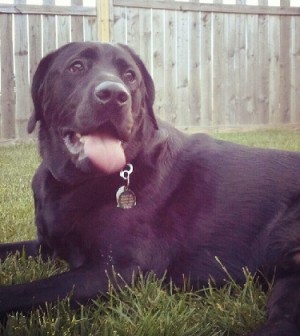 The feature image you see to the right is Ritch Cassidy's, one of our Pet People, pup Hickree Mo. He has recently lost a bunch of weight and is happier and healthier than ever.
Fat cats may arguably be the cutest things ever. Fat puppies make you want to shriek with joy. In general, every fat animal makes us humans happy and all warm and fuzzy inside. It's cute, right? Fat, happy and full of life. Well, your fat and furry friend may not be feeling very happy inside when it starts to develop serious health risks due to being overweight. Having an overweight animal, sadly, has become the norm.
It's a cool thing to have a furry plump creature wobbling around your house, but it's not cool for us people to be wobbling around the house…and you know why? Because it's unhealthy. Not good for us. Obesity can become life threatening for us and for your pets.
Check out the Association for Pet Obesity Prevention web site. According to them, an astounding 58 percent of cats and 53 percent of dogs are obese. This poses serious problems to the pet community.
"Among all diseases that perplex the veterinary community and plague our population of pets, obesity has the greatest collective negative impact on pet health, and yet it is almost completely avoidable," said Dr. Ernie Ward, veterinarian and founder of APOP. "The pet industry is mighty and well-meaning, but it's time we stop accepting the status quo. We must start working together to fight obesity through knowledge and action."
Obesity is classified as a disease- an avoidable one.  "Osteoarthritis, type 2 diabetes, heart disease, joint injury, various forms of cancer and decreased life expectancy are all linked to obesity in pets," Ward says.
A whopping 93 percent of dog owners and 88 percent of cat owners think their pets are in a healthy weight zone. Forty-two percent of animal owners agreed that they didn't know what a healthy weight for their pet was. The Association for Pet Obesity Prevention's goal is to get the public aware of the problem and ways to reduce it. For more information please visit their site above or click HERE.
Ways to keep a healthy pet:
Walk your animal daily. If you have a cat, play with it daily using toys such as lasers.
Limit the amount of dry food you are giving your pet. Instead of 3 scoops drop it down to 2.
Choose a natural, healthy brand of food that isn't full of additives. (Check out some of our local pet partners that sell healthy food by clicking our Directory page)
Cut out the table scraps. (Sorry to inform you, but hotdogs and chips are not good for your pet)
Visit your vet (Just like you need a Doctor check up every so often, your pet does, too.)
Most importantly, educate yourself by talking to your vet or researching on the internet as to what is healthy and what isn't healthy for your pet. Pay attention to your pet and be mindful of his or her needs.
You must be vigilant in helping your pets stay fit and trim. If you want them around for as long as possible, this may be the best way to accomplish that. And yes, those are my two fat cats, Joey and Zoey. I am working on getting their weights down, too!