Grand Opening of Dogtopia's Second Omaha Location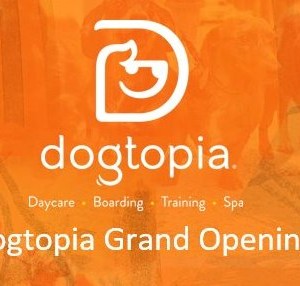 On Thursday, October 19, Dogtopia Omaha will be having a grand opening party for its new Omaha West location from 5-7 pm. There will be food, cake, and much to see in the new store. AND you can bring your pups!
Channel 94.1 will be there to DJ the event and great vendors will be present. A list of vendors can be found on Dogtopia's Facebook event page here as the event approaches.
Dogtopia will be giving away some awesome prizes to boot. Two lucky people will go home with a 30-day daycare pass and one grand prize winner will receive free daycare for a year! Dogtopia will also be giving away gift cards and new customers who come and sign up will receive a free day of daycare.
Derrick Reinhart, owner of Dogtopia's two Omaha locations, says the most exciting part of opening the new Omaha West location is bringing a safe, clean and fun environment to West Omaha. "We believe daycare is so much more then just playtime," he says. "Benefits of bringing your dog to daycare include supervised socialization, exercise, relief from boredom, and it's a great solution for those who have a busy lifestyle. We love dogs and their safety and care is our number one priority."
Reinhart is also excited to provide job opportunities to the community.
The new facility has three large playrooms, all of which are equipped with webcams so customers can watch their dogs play the day away. All playrooms are all indoors, so there's never a worry that weather will ruin a dog's playtime. Each playroom also has its own HVAC system to ensure the highest quality air control. This helps Dogtopia maintain a clean and healthy environment. Rubber flooring in all playrooms are slip-resistant and are easy on dogs' hips and joints.
Also in the works is a large outdoor atrium that will allow pups to be outside in the sunlight with K9 grass. Dogtopia also has a state-of-the-art spa facility where pups can receive a variety of spa services. Services include daycare, boarding, grooming, and training.
"You can rest assured that your pup will always be 100 percent supervised during open play," Reinhart says. Safety is of the utmost concern.
Check the event page listed above for more details and don't forget to RSVP on Facebook.