Help fill a trailer with supplies for victims of the flood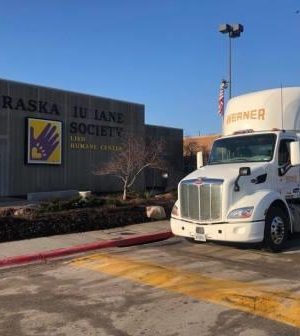 The Nebraska Humane Society has a semi trailer ready to be filled with donations for animal flood victims. It is parked outside the Nebraska Humane Society at 90th and Fort in Omaha.
The trailer will be staffed from 9am-7pm on weekdays and 10am-5pm on weekends. The trailer is located on the EAST side of the building in a smaller parking lot.
ITEMS NEEDED:
stainless steel pet food dishes
martingale collars of all sizes
leashes
clean towels and blankets (no pillows or sheets please)
pet food / treats
pet toys
scoopable kitty litter/litter pans/scoops
bottled water to feed to animals
WIRE kennels (we have enough hard plastic)
CAN'T MAKE IT TO THE DROP SITE?
Buy items from The NHS Amazon wishlist that will be loaded directly into the trailer here: http://a.co/fDzRYMs
Would you rather make a monetary donation? GIVE HERE: http://bit.ly/2Oey89X
***IF YOU ARE A FLOOD VICTIM, PLEASE COME "SHOP" IN THE TRAILER FOR SUPPLIES. ALL FLOOD VICTIMS ARE WELCOME*****