Keep yourself and dogs safe during this scary germ time with Kangen Water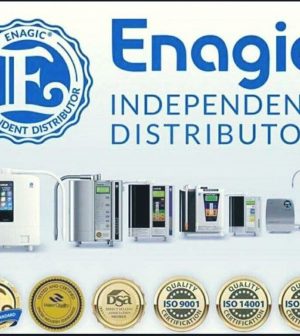 Donna Retherford, your local Enagic Independent Distributor has some tips for staying healthy during this especially yucky season. Take a look below and find links with more info at the article's conclusion.
Now is the time of year when avoidance of germs and proper sanitization is at the forefront of our collective consciousness, (especially right now). You can stock up on antibacterial products and hand sanitizers, but considering triclosan carries a host of health issues, it would be great to have a safer, more effective alternative to fight germs.
Everyone is aware of the benefits of drinking Kangen Water®, but are you aware that our machines can also create an all-natural, and effective disinfectant? This powerful, multi-purpose water can be used, in a multitude of ways, to safely disinfect and sanitize. Not only will you save money, you'll ensure that you are protecting yourself and your family in the safest, most natural way possible.
Strong Acidic Water, produced by the majority of our machines, has a pH of around 2.7 and is our most powerful antibacterial and anti-fungal water. This water effectively kills bacteria, quickly and safely, without the use of harsh chemicals.
Strong Acidic Water will become a natural replacement for the current disinfectants that you use around your home. Natural, powerful and cost-effective, you couldn't ask for more!
So, now let's take a look at some of the ways you can incorporate this incredible water into your daily routine. Of course, once you have your own machine, you'll probably have your own list of ways this water has changed your life for the better!
These are tried, true and tested!
Disinfect Wounds: Use 2.5 pH water for open wounds like cuts and scratches. Use as you would use hydrogen peroxide to completely disinfect the wound and promote faster healing.
Effective Mouthwash: Gargle with 2.5 pH to completely disinfect your mouth (not for drinking or swallowing). Those with gum disease, like gingivitis and periodontitis, can help treat these infections by gargling once a day with Strong Acidic Water. Also excellent in the prevention of gum disease and tooth decay. Excellent for disinfecting toothbrushes.
Natural Hand Sanitizer: Fill a spray bottle with Strong Acidic Water and spray as necessary to disinfect your hands. Adding a few drops of essential oil, like tea tree oil, can help boost the antibacterial and anti-fungal properties of the water. Creating your own hand sanitizer formula is a great way to stay healthy and chemical-free!
Around the Kitchen: Keep a spray bottle hand to spritz cutting boards and counters after use to fully disinfect and sanitize while preventing the growth of harmful bacteria on these surfaces.
In the Bathroom: Disinfect your toilet, shower, bath and surfaces with this water so that they are free of bacteria.
In the Playroom: Well-loved toys require constant cleaning, but the idea of using a harmful cleaner on something that may very well end up in your child's mouth is alarming. With Strong Acidic 2.5 pH Water applied daily, you can ensure that the your child's toys are safely cleaned and free of bacteria.
Skin Care and Skin Disorders: If you are experiencing skin issues, try this Kangen Skincare Routine: First, cleanse your skin with pH 11.5 (Strong Kangen Water), next use Strong Acidic Water to disinfect and remove dead skin, finally finish with pH 5.5 (Beauty Water) as a toner. Repeat until the issue clears, you'll marvel at the results!
Other skin disorders such as eczema and psoriasis may be improved with regular treatments of Strong Acidic Water. The disinfecting power of this water purges bacteria, so proper healing can occur.
As you can see, our waters have so many incredible uses. This touches on just a few of the many effective applications for our Strong Acidic Water and there are so many more – especially with the other water types! If you'd like to learn more regarding the uses and benefits of owning your own machine, reach out to me, my info is below!
I can't wait to help you get one of these awesome machines in your home so that we can trade notes and compare results. We have many purchase options available, owning your own machine is easier then you may think and the machines typically last for 15+ years when properly maintained… think of the potential savings on bottled water, harmful harsh chemical cleaners and more!
I hope to speak to you soon… Give me a call when you get a chance.
Until then, take good care!
Donna Retherford
Enagic Independent Distributor
Omaha, NE
402-938-4267
 For more direct product information, visit: www.KangenWaterOmaha.com 
To learn how Kangen Water can help make your life more GREEN, visit: Eco.KangenWaterOmaha.com 
For an incredible presentation on becoming an Enagic Distributor, visit: Biz.KangenWaterOmaha.com 
Find out how restaurants and spas are using Kangen Water® to improve business: Commercial.KangenWaterOmaha.com 
Discover the amazing benefits of the Ukon Sigma herbal supplement: Ukon.KangenWaterOmaha.com