Nebraska's Largest Shelter is nearing critical capacity- Please share and/or adopt!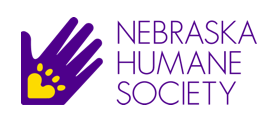 We know that there are thousands of feral cats in and around Omaha that make kittens at least once per year. We know, too, that many people don't spay or neuter their animals, contributing to the pet population that's already difficult to manage. We also know the answers to solving these problems.
That's not to say the problems are easily solved, but there are many animal advocates working every minute of every day to educate the public, practice trap-neuter-return, get animals to shelters and rescues, and stop the proliferation of animals in commercial breeding operations. Those animals and people who advocate for them always need our help.
Nebraska's largest shelter, the Nebraska Humane Society in Omaha, is charged with many responsibilities and works hard trying to make things better for displaced animals. Currently, the shelter is experiencing a population that is at or near its capacity, which complicates things further. Here's a recent graphic that illustrates just how little space is available for dogs at the shelter.
The shelter has been going bananas on social media, sharing updates and calls for help multiple times per day. We've seen stories on the crisis from newspapers and TV outlets all week long.
This is our attempt at getting the word out and relieving a bit of the strain the shelter currently feels.
What can you do to help?
Adopt. As the shelter always says, the animal you adopt empties a kennel and makes room for the next animal that needs help. In times such as these, programs like the one that allows people to surrender their animals to the shelter get shut down, making things even more difficult on the community and people who need help. Adoption is the best way to keep necessary movement going. Click here to see available dogs. Cats can be found here.
Share. Share this post, share the shelter's updates on social media, and share the stories you see elsewhere. One little click on your phone or computer could help the message get to many more people and, who knows… maybe your share leads to an adoption right away.
Donate. The shelter has a budget, but much of the work it does to its facilities and for animals comes from private donations. Help the shelter fill a wish list, participate in a fundraiser, or just make a simple monetary donation today. Click here to find out how you can help.