Omaha Halloween-themed Pet Event Guide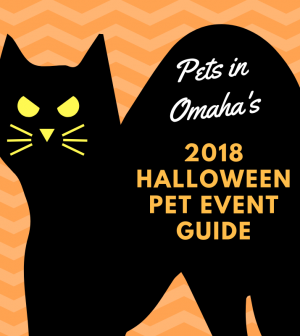 Halloween is a big theme for late-season pet events and fundraisers from shelters, rescues, and pet-loving businesses. This year is no different, and we've got a list of these events scheduled for 2018! Take a look and mark your calendars!
As always, events like these are featured all year on our Events page! Upon your next visit, bookmark www.petsinomaha.com/events to have easy access to our event calendar.
October 14, 2018 – Barks and Boos Halloween Bash
A Halloween FUNraiser for dogs and their people to help raise funds for the opening of Omaha Dog Bar. Hosted by Omaha Dog Bar and Ripley & Rue.
Hold on to your bacon people, this event is sure to be the scariest and funnest of them all. Dress your pups up in their Halloween costume and head downtown at our special Haunted Warehouse location in the new Makerhood (where Hutchfest was located just north of TD Ameritrade Stadium) for some Trick or Treating, games, Infusion brews and cocktail, a beer garden/bark park and of course a costume contest!
DETAILS
• 21+ over (Must have valid ID)
• Tickets are $25 and should be purchased in advance. You'll receive 2 drink tickets to the Infusion Brewery bar, access to all games and fun activities and entry to the costume contest. ($10 of your ticket fee goes directly towards our fundraising efforts!)
• Tickets are per dog
• First 30 ticket purchasers will receive a Barks and Boos Tote Bag full of goodies. Sponsored by Omaha Dog Bar and Ripley and Rue
• Infusion Brewing Company will be serving the drinks! They will have 3 different brews and a few house cocktails available
• Ripley & Rue will be there with a selection of their accessories and a special ODB themed bandana! Puparazzi sponsored by Ripley + Rue as well
• A vendor village full of local dog-friendly shops and services will be present. Details below!
• A local radio station will be mixing up some scary tunes!
• Graffiti artist will be set up doing special dog art
• Costume contest with the coolest prizes! (Categories announced soon)
OUR PAWSOME SPONSORS AND VENDORS:
Ripley & Rue
Infusion Brewing Company
Beer Paws
Long Dog Fat Cat Midtown Crossing
Love Yo Pup
Brixtix Bakery for Dogs
mazzyco
Pets Earth
Pet Wants West Omaha
Downtown Dog Walking
Farnam Pet Hospital
RULES FOR FURRY FRIENDS
• Dog(s) over 1 years old must be spayed or neutered. No dogs in heat.
• Puppies must be older than 4 month of age and be current on puppy vaccinations.
• Dog(s) must be current on all vaccinations and on a tick/flea preventative
• Dog(s) must be socialized and good with other dogs
All breeds are welcome that follow the above guidelines
WHY?
Before we confirm on a Midtown Omaha location, we will be hosting a series of Pop-Ups in order to fundraise and come together as a community. This will be your chance to learn more about Omaha Dog Bar, socialize your pups, socialize with other Omaha humans, and enjoy a refreshing beverage! All proceeds will go towards our permanent location.
NO EXCHANGES OR REFUNDS
DAY OF TICKETS AT DOOR WILL BE $30
For more information, check out the event's Facebook page here.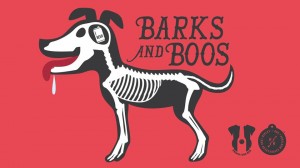 October 21, 2018 – Growl-o-Ween with Woof & Whiskers
Growl-O-Ween 2018 is going to be bigger than ever! $10.00 per dog CASH ONLY PLEASE donated to local charities (This year you get to choose your donation recipient)! Located in the back parking lot of Woof & Whiskers, we will have games, treats, tricks, caricatures and vendors from 12:00 PM – 3:00 PM! We will also have our professional pet groomers doing Nail Trims ($10) & Grinds ($12) CASH ONLY PLEASE with profit going 100% to The Goodlife Bulldog Rescue!
Enter our costume contest anytime between 12-2 PM and you could win big prizes! We will be trick or treating around the shopping center at 2:30 with all natural treats provided by yours truly! Please bring a bag from home for your goodies.
If your interested in being a vendor please let us know and we'd be glad to accommodate.
Link to pre-register will be available soon!
Rules:
1) No FLEXI leashes (All dogs must be on a 6 foot or shorter leash)
2) Kids attending must stay with parents at all times and ask before petting any dog. (Not all dogs are kid friendly so please ask!)
3) Dogs must remain on a leash at all times
If your dog is not dog friendly and would like to participate, you may trick or treat on behalf of your dog, just make a donation! Dogs may also enter the costume contest privately by a photo provided the day of event. We understand not all dogs do well in a public environment and they deserve a chance to join the fun as well! Caricatures will also be able to be done for a small fee, if your pet is unable to come, bring a photo and our artist can draw one from your photo!

October 24, 2018 – Pet Costumes, food, and fun that benefits the Nebraska Humane Society
On Wednesday, Oct. 24, join the Nebraska Humane Society's Yappy Pack at Quaker Steak & Lube in Council Bluffs to dine with pups, raise money for Nebraska's largest shelter, and watch a pet costume contest!
The event goes from 5 pm until 8 pm and is located at 3320 Mid America Drive in C.B.
Ten percent of your purchase will be sent straight to the Nebraska Humane Society's Walk for the Animals on behalf of Yappy Pack. Participation in the canine costume contest during this event is $5.00 per dog and judging starts at 7:00pm.
Questions? Please call 402.639.2493.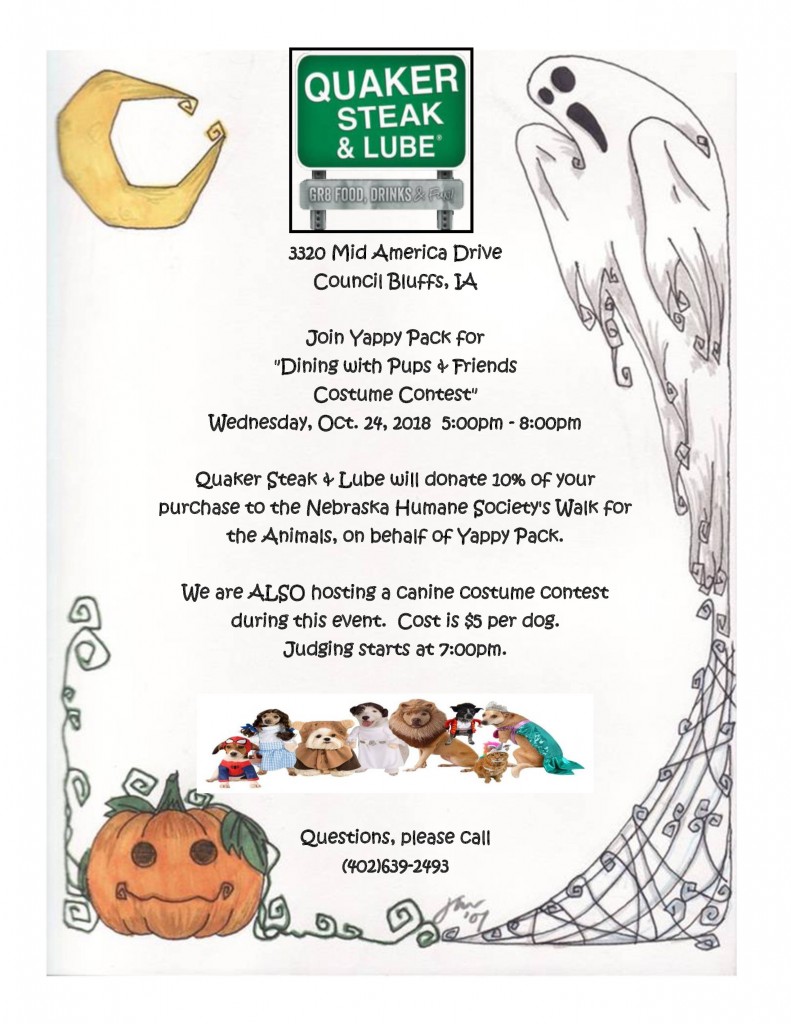 October 27, 2018 – Midlands Humane Society presents its Halloween Howl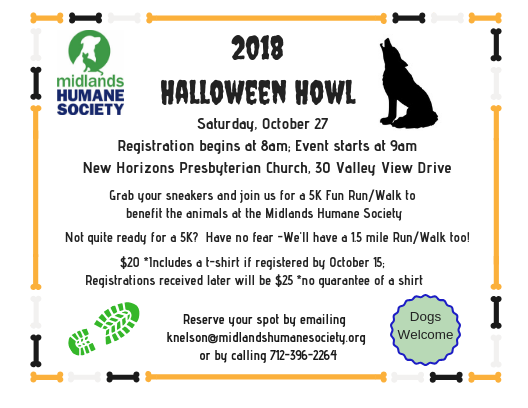 October 27, 2018 – Boston Boo! 2018
Check out this annual event from MidAmerica Boston Terrier Rescue!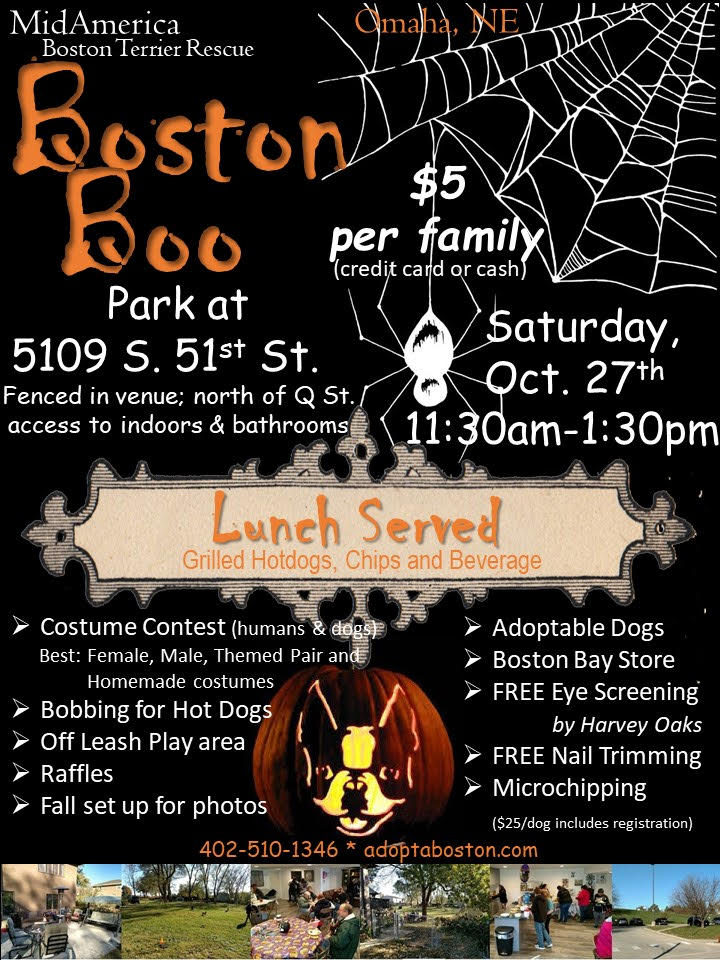 October 27, 2018 – Hallowooooooooooo! A Halloween-themed event from Taysia Blue
On October 27, 2018, join Taysia Blue Siberian Husky and Alaskan Malamute Rescue for its Halloween-themed event, Fur Ball 2018.
From 6 PM – 9 PM, enjoy dogs and rescue in this unique event from one of our area's most popular rescues.
The Omaha Marriott (102nd and Regency) will host the event and more information can be found at http://taysiabluefurball.com/ as the event nears. Also, be sure to visit the Facebook event page here.

October 28, 2018 – Pug-o-Ween from Pug Partners
One of the most popular events of the year (and the largest pug gathering you'll find in Nebraska!) is here once again- Pug-o-Ween from Pug Partners!
On Sunday, October 28, 2018, Pug Partners will be celebrating the 10th Annual Pug-O-Ween event from noon until 4 pm. Join pug lovers at the Army National Guard building (6929 Mercy Rd) for fun, games, and a wonderful opportunity to learn about the rescue group and its mission. There will be many pugs, some available for adoption, and the group would love to see your wrinkle-faced, curly-tailed buddy too!
More details are available on the Facebook event page here.