Pet People: Lorie Jenkins of Muddy Paws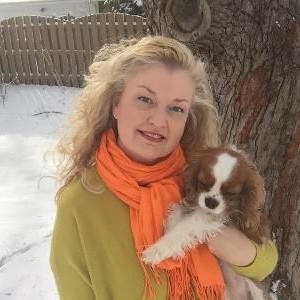 For Lorie Jenkins, volunteer at Muddy Paws Second Chance Rescue, her rescue dogs are more than just her furry companions, they're her reason to keep going.
"When you have cancer, it can be very isolating. You don't want to share too much about what you're going through with the people who love you because it could be terrifying for them. Dogs, on the other hand – well, you can pretty much tell them anything and they won't flinch. And their mere presence is such a calming influence," Jenkins said.
Lorie Jenkins, our latest Pet Person, can attest to the purpose dogs have in our lives. They love us when we need it most and their love is unconditional.
A native Arkansan, Jenkins grew up in a small town after moving around the country with her dad's Naval career until she was eleven. Her family always had pets. But after she and her siblings grew up and moved away her parents moved onto an acreage of outside of town. Eventually they accumulated an entire "zoo" of goats, sheep, and birds that were treated as family pets.
By the time Lorie's mother passed away there were still two family dogs. Lorie's sister took in one of them and a Great Pyrenees named Snowball came to live in Nebraska with Lorie and her boyfriend, Clark.  By this time, they already had Tara, a German Shepard mix from the SPCA in Dallas, Texas. Bailey was part of the clan, too; Bailey was displaced when her owner died. But the couple decided to take Snowball in as well.
"When we brought him home from Arkansas, he was in pretty poor health because he was so old. I thought we would have a couple months with him. We actually got nine months with him," Jenkins said.
He was an outdoor dog in Arkansas, but when they brought him home, they pampered him and he became an indoor dog. As Snowball got older, he began to have hip problems.
"He got to a point where it was really hard for him to get up the steps so he had to be carried, but it was worth it to see him blossom into this dog he wasn't before," Jenkins said.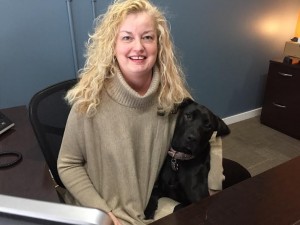 Around this time, Jenkins began to feel like she was having some health problems, but she put off getting checked out because she felt that she needed to see things through with Snowball.
"A week after we lost Snowball I went in and had a colonoscopy and found I had colon cancer," Jenkins said.
Jenkins believes that Snowball had come into her life to remind her to care for her own health. By the time they found the cancer, Jenkins said that it was pretty far advanced; it was something that she never expected to happen to her, especially not as young as she was. She began Chemotherapy soon after.
"For me, having Tara and Bailey all the time…to just have them constantly there was such a great source of comfort," Jenkins said.
Tara and Bailey came into her life to keep her spirits up as she fought cancer.
During this time, Jenkins said that she was praying for a smaller dog that she could "hold close to (her) heart." She loved her big dogs, but she said nothing compares to being able to hold a small dog close to you. But she didn't think it was fair to bring a new dog into her pack with the future so uncertain.
Still she needed a little dog fix so she went online and found Little White Dog Rescue, a local group that takes in small breeds. She began to follow the rescue and go to their events as she felt up to it.
"I called myself the 'Little White Dog groupie' because I would go to their events just to get some little dog cuddles," Jenkins said.
Not only did she get her little dog fix, but she also met two cancer survivors who volunteered with Little White Dog. Going to the events became a type of therapy for her. She got to see little dogs and she also got to ask the survivors questions and bond with them.
Against her doctor's wishes, she quit chemo early. Jenkins said that she was just over it and ready to move on. On September 17, 2012, she went to her last chemo treatment. On October 1, 2012, she had the CT scan that confirmed that she had enough chemo and the cancer was gone.
"When I felt well enough I said 'well, I want to volunteer.' I had done it in Dallas but then my career took off and I had to let it go. I let them (Little White Dog) know that I wanted to be a foster and waited to be called into service," Jenkins said.
Shortly after the rescue called and said that they had a King Charles Spaniel that was coming from a puppy mill and was on its way to Omaha. She was excited to get to focus her energy on something else, but then she got the call. The dog had been adopted before it even made it to town.
"They said, 'Well, we have a puppy,' and I thought, 'Oh God, puppies are a lot of work. I suck at all the potty training, but I thought, there's a puppy in need. I have the space and I'm home all day…so ok,'" she said.
When she went to meet the puppy, the founder of Little White Dog, Larry Long, her friend and a former cancer patient, was there to hand the bundle over.
"There was little this tiny, tiny thing wearing an ivory colored parka with a hood and a furry collar and all you could see was her little face and it was Molly Bob," Jenkins said.
Jenkins was supposed to just foster her until they found a forever home for her, but when they did find a home, she couldn't let her go.
"Clark came home and I told him they had gotten an application for her and he looked at me and said 'we aren't keeping her?' And I said, 'Well I didn't think you would want to keep a puppy. He said 'oh no, we have to keep her now."
Molly Bob became Jenkins' heartbeat. Long had originally told Jenkins that Molly Bob was very good at keeping herself entertained, but Jenkins soon found out that this wasn't true. After Long lost his third battle to cancer, Jenkins would speak about this at his funeral.
"He knew damn well she wouldn't keep herself entertained. He knew that she would demand my attention every minute of the day. But he knew better than anyone that I needed something positive to focus on and she was just the thing. I stopped worrying about cancer and just gave in to this puppy who consumed my life. Larry and AJ gave that gift to me." Jenkins said.
Next came Cheryl the Dog, who came from a Kansas City Shelter to Little White Dog with an injured back leg in February of 2013. No one knew how it had happened, but it had healed and she could move around perfectly fine.
Jenkins was originally just going to take her to get her hair groomed and then return her to her foster mom, but she fell in love and adopted her too.
"She was so fearful. She spent the first year we had her under the bed. Until Matty came along about a year later…he literally brought her out from under the bed and brought out her personality and she felt safe," Jenkins said.
But Matty Cakes got adopted and it's safe to say that everyone in their "pack" felt lost. Three weeks passed before Jenkins received the call that would complete the pack. The lady who had adopted Matty had a change in her situation and she wouldn't be able to give him the attention that he needed.
"I burst out into tears of joy because I had been crying since he left. Then I just never let him go and two months later I adopted her," Jenkins said.
On September 17, 2013, she was at Three Dog Bakery getting a birthday cake for Molly Bob and she couldn't stop thinking that there was something else significant about that date. She hadn't thought about it until that moment. On the same day she took her last chemo treatment, Molly Bob was born.
"So, when I think of what the odds are of someone my age with the stage of cancer I had, a five-year survival rate is low- like 28 percent. When I think about how God gave me this dog on my last day of chemo, I knew I'd make it through another five years and many more. Because he gave me this little dog to take care of," Jenkins said.
On October 1, 2017, Jenkins will have beat the five-year-survival rate and she credits a lot of it to her pack. She believes that every dog (or other animal) has a purpose.
Snowball came into her life to make sure that she went to the doctor to get checked out. Bailey and Tara came into her life to help her through it and Molly Bob came into her life to reassure her that she would beat the odds and survive. Cheryl came into her life because she needed a loving home and Matty came because Cheryl needed him.
This is why Jenkins champions rescues of any kind. She loves Little White Dog; after all she got three of her pack members from them. But she recently started working with a new group called Muddy Paws Second Chance Rescue.
Jenkins says that she started with Muddy Paws because of what the group was doing over and above the traditional process of rescue: offering owners the opportunity to keep their dogs through help with medical costs and training.
"Some people give up their animals (not just dogs) simply because they have a medical problem that they can't afford or because there is a training issue they can't deal with on their own. We try to help them with the funds we have raised so that they can stay in their home," Jenkins said.
"Muddy Paws is an incredible rescue that is doing awesome things despite being a very young organization. In just our second full year of existence we found homes for 238 animals and offered help that allowed more than 40 others to remain in loving homes. I'm so proud of that!"
Jenkins hopes that by telling more people about Muddy Paws they might be able to help more animals continue to stay in their homes or find new ones. She knows that people need animals as much as animals need humans.
Without her pack, she's sure she wouldn't be here.