Pet People: WOWT's Malorie Maddox
We sat in a lounge somewhere in the heart of the Channel 6 complex; she in her red dress and heels, sat cross-legged and smiling. I squirmed with my pen and paper for a couple of minutes trying not to sweat. Just feet away from one of the most respected news people in the region, I read from my silly script and attempted to write her answers in a way that would lend itself to being able to read later.
The story was to be about a famous person; one who everyone knows and one who happens to like pets. These stock questions and somewhat predictable answers were to become a nice story about a nice lady, but it became clear that I had a new story on my hands. I would tell readers about Malorie's upbringing, her schooling, her husband and son and dog, the way she still loves to play the piano and run despite her busy schedule, and what "date days" are. The bigger purpose, however, became apparent relatively quickly- Malorie Maddox is not only the latest local star we call a "pet person," but a rare personality with a massive heart who we as Omahans should be proud to claim as one of our own.
Malorie Maddox has been a fixture on television screens throughout Nebraska, Missouri and Kansas for more than a decade. Loyal WOWT viewers, like your humble pet reporter here, regard her and admire the work that she does to inform the community and tell the stories that touch our hearts. To say we feel good about having her as a representative of our proud town is an understatement.
There is a certain amount of pressure on a person when he or she is one of the faces of Omaha. There's pressure when one represents an institution like Omaha's NBC affiliate, WOWT, as well. Pressure also comes when one is the vehicle from which some of life's most important stories are told to nearly one million people in the viewing area. Malorie understands these pressures and anyone who meets her will be able to recognize the reverence she has for her stories and the people who share them with her. The care she takes in telling our stories is purposeful and phenomenal. "I work hard every day to be a good messenger," she says.
Malorie tells happy stories. She tells stories of redemption and of triumph and she does it well. We all love those stories, but they are much easier to tell than the hard ones. "When you meet people in the midst of their darkest days and you take care in telling their stories, that's the most rewarding feeling," Malorie says. There are instances where a person experiences a traumatic event, starts the healing process and doesn't feel ready or willing to tell his or her story for a long time. That's where the pressure comes in. Days, months and even years after the fact, Malorie will tell those stories of heartbreak or loss, trauma or despair, but always with a glimmer of hope. She can't let herself simply "use" these people as stories- they are much more to her than that. Her interviewees often become her friends or pen pals. Her compassion, her ability to connect with viewers and storytellers, the level of care she treats stories with and her always careful consideration are what separates her as a journalist. If it sounds as if I am gushing here, it's because I am. She's one of the most authentic and amazing people I've ever been allowed to meet.
In late April, things in news business get serious. Quality newscasts, stories and local news coverage are always the priority for folks at Channel 6, but ratings come in at this point in the year. For TV stations, ratings are no joke. They consume the thoughts of those who produce, sponsor, film and present the news a great deal. It's not surprising, though, that Malorie invited me to chat with her during this all-important week. She seems incapable of "not having time" for someone or "big-timing" anyone. She's a good listener and an inviting face to even the most nervous and precocious of pet reporters. (Thanks to her welcoming and warm personality, I did manage to settle down and speak coherently.)
Raised on a farm south of Wichita in Wellington, KS, a town of about 9,000, Malorie was surrounded by animals. The Bartelson family raised pigs and had a slew of farm dogs before, like many farm families, they "moved to town." Nanny, a Boston terrier, helped foster Malorie's love for animals- one she's had "always."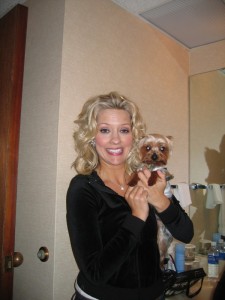 After graduating from high school, Malorie headed north to the University in Lawrence where she wished to be trained in the law as a Jayhawk. As a result of her time with youth groups and her advocacy for underprivileged children, Malorie was studying to become an attorney. She wanted to become a judge someday- a post from which she could do a lot of good for a lot of kids. Things changed, however. An instructor recommended that Malorie enroll in one of her broadcasting classes, so she did. The rest is history.
Upon her degree's completion at KU, Malorie accepted a job at Wichita's KAKE-TV. She was a consumer investigator and a very good one at that. Upon getting calls about an area judge who had skipped court dates, left kids and families out in the cold and repeatedly ignored his duties, Malorie was part of an undercover investigation on the oft-truant and misbehaving adjudicator. Her efforts helped produce a series called "Bad Judgment," which won a Kansas Area Broadcasters Award. She followed the judge around town, recording his whereabouts and logging his time at the courthouse. "Over five weeks, we tracked him and found he spent only about 42 hours 'at work.' There was an instance where we witnessed him having three, maybe four glasses of wine over the lunch hour, then getting in his car and driving while he already had one D.U.I.," she revealed. The judge was fired or resigned as a result of this scrutiny. Malorie was well on her way to becoming a great reporter.
"Everywhere I've been, I've had great teachers and co-workers and I've soaked everything in. I've been lucky," she says. Her former station in Wichita was recently given the Murrow Award- a prize given to the best television station in the country.
After her time in Wichita, Malorie moved to Joplin, MO, where she became the main anchor for KODE-TV. Her heart once again showed (and continues to) as she founded a program called "Buddy Check 12," a breast cancer awareness effort that raised over $15,000 for breast cancer treatments and research programs. The program is still going strong in Joplin, more than a decade after Malorie's exit. "Any time I can help, any time I can be a messenger and get a voice out there, I will," she says. She advocates for breast cancer awareness because of instances of it in her family and because of the "great fellowship of women who are fighting the disease." Being an outlet for those women's stories and bringing awareness to the disease is just one way Malorie helps to change the lives of others.
Through her inspiring and promising work in Wichita and Joplin, Malorie was given an opportunity to come to Omaha and be a part of the WOWT Channel 6 News team. She's currently the co-anchor of prime time telecasts with legendary newsman, John Knicely, but before rising to her current status, Malorie was co-anchor of WOWT's Live at Daybreak and as a consumer investigator for Six on Your Side. Over the past ten years of work at Omaha's NBC affiliate, she's won awards from the Associated Press and the Nebraska Broadcasters Association. In 2005, she was selected as one of the "Ten Outstanding Young Omahans" for her leadership and volunteer work in the community. Her WOWT profile also states she was also selected as a board member for the WCA.
One might assume that her favorite stories are the human interest stories that are so well-done and memorable. Malorie, however, says she doesn't have a favorite kind of story. "Many stories have changed my life," she says. "I'm lucky. In the past year, I've been everywhere from prisons to L.A." She recently followed an Omaha-area contestant to Los Angeles to view a filming of Jeopardy. "Those personal stories are great, but I also love doing hard news. I enjoy the wide range of things I get to do."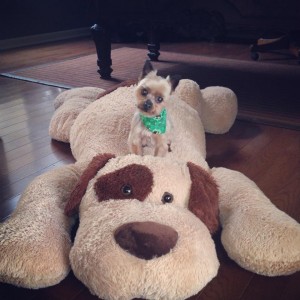 In the past, Malorie hosted behind-the-scenes shows detailing the production of The Lion King and Phantom of the Opera as the Broadway hits traveled through Omaha. She and a production team were allowed to tag along to Los Angeles and Chicago to film the cast and crew of these shows. She also shot a 30-minute show on Les Miserables recently, which she calls one of her favorite experiences. In case you are wondering, she doesn't have a background in theatre, but enjoys the intensity of 7, 8 and 9 hour shoots for productions like this. Her mother, however, is quite the theatre buff.
Throughout the interview, it occurred to me that Malorie used the phrase, "I'm lucky," more times than I could count. After reading her resume and exploring her past in the business, it doesn't seem to be luck as much as it is dedication and passion for what she does which has given her these opportunities to feel lucky. Reflecting upon her time at WOWT, she said she was lucky, once again, to be surrounded by so many hard working people who "put their hearts and souls" into the station. Now a venerable veteran (with a long career still ahead), she surely inspires young reporters at Channel 6 and beyond. As a young reporter, Malorie put her heart and soul into becoming what she is today.
A large part of her heart and soul, and a partner in her journey to Omaha, is Milton. Twelve years ago, just as Malorie was cutting her teeth in TV, a Yorkie breeder brought a puppy into Malorie's station. The breeder couldn't care for the pup and Malorie couldn't afford it. After meeting this little guy, however, it was going to be hard for Malorie not to take him home. This "four pounds of fury," as she calls him, is Milton. Often mistaken for a cat, Milton has been with Malorie for most of her career. He captured attention as a pup because he learned to walk in a strange way. Instead of getting on all fours and lurching forward, Milton walked backwards. He still arrests attention at over 12 years old because of his diminutive size and pixy-like gate. We repeatedly tell the story of a pet's significance in a family, but Malorie's and Milton's story is unique. When she left Joplin for Omaha, Malorie had nothing to go to except a new city and job.
"When I moved to Omaha I didn't know anyone but Milton," Malorie says.
Milton has become quite a star himself. He's been on television a few times and viewers have taken notice. "One lady made me a painted magnet shaped like Milton after seeing him on TV," Malorie says. "I always smile when I see it."
Her love for animals is special because it has been life-long, but also special because she includes animals and people who care about them in her story choices. She recently got an email from the people who run the Lost Pets of Omaha Facebook page asking if she'd share their URL and spread awareness. The ladies behind the page were excited to learn, but should not have been surprised, that Malorie responded the way she did. "I told them, not only am I going to share your page, I'm doing a story on you." Viewers often send Malorie story ideas through social media and she often pursues them. "Social media broadens what we can do so much and I try to take advantage of tips from people."
Her husband, Greg, doesn't enjoy the camera quite as much. Every year, WOWT personalities introduce their families in a short video extending holiday greetings. Malorie, Greg, Milton and Moss, the couple's son, send one of these greetings out to viewers. "Yeah, Greg doesn't like those as much as Milton does," she says. Greg is an attorney in Omaha and is in-house counsel for Senior Market Sales. The couple recently celebrated their seventh anniversary.
If you locate Malorie's Twitter feed, her bio starts out by saying "Moss's Mom." Moss, the Maddox's three-year-old son, has a "fitting name" according to Malorie. He shares his name with a boy Malorie once met from Houston- she fell in love with the boy and his name, later giving it to her own son. The aforementioned nickname for Milton isn't accurate anymore as a result of Moss's hobby of giving the dog treats. "He actually just hit five pounds," Malorie says.
On a Sunday-to-Thursday news schedule, Malorie gets away from the station on Fridays and Saturdays. She admits she has a hard time "turning work off. I try to be a representative for WOWT whenever I'm not here," she says. Fridays are called "Date Days" for Malorie and Moss. "We use that day to go to the zoo or do something else together." It's obvious that she takes her job as mom as seriously as she takes her TV career.
Malorie's life is busy. She won't admit that it's different than yours or mine, but it is. That's just another reason we appreciate her and her work so much. "I appreciate that people think my job is so hard, but it's really no harder than anyone else's…especially when both parents work full time," she says. Greg and Malorie are hard-working Omahans, like many of us, but again, the pressure of being a celebrity adds another dimension. Still, she's appreciative and humble, always displaying humility and calling herself lucky.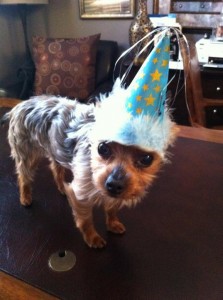 Above you'll find facts and stories of how Malorie became the fantastic journalist she is today. You'll read about her happy marriage with Greg, about her pride and joy, Moss, and about her loving Yorkie companion, Milton. As stated earlier though, those are parts of the simple "Pet People" stories we produce, but the real story is the one about the compassionate Kansan-turned-Omahan who you invite into your living room each night. Malorie is much more than a smiling face on your TV screen.
I attempted to tell her how she was so special to so many of us at the conclusion of our meeting, but will do it again just to be sure.
Malorie comes on the air on days when her allergies are running amok. She sounds like she needs to blow her nose. This isn't embarrassing or a hindrance to her job, it reminds us that she is human. A few weeks ago, she did a story about dermatology in which she had to appear on our TV screens without makeup, age spots and all. This isn't shameful and it isn't uncommon- it's another example of how we can relate and appreciate just how humble and down-to-Earth she is. How many female anchors would do that? After a heart-warming story is aired and the camera fires back to Malorie and John, she's often a little teary-eyed, just like many of her viewers. She's an emotional person and this is why she's so endearing to her viewers.
My apologies for the gushing, again, but there are times when one has to really exaggerate a point in order to make it clear. She is as wholesome as she appears. However nice you think she looks on TV, take that times two to reveal an accurate level of nicety.
Once my time with Malorie was up, she walked me all the way out of the building, shook my hand and thanked me for my time. Ha. Remembering that I had told her that my wife is about two months pregnant and recalling our discussion of Moss's name, she asked whether we were going to find out about the sex of the baby. I said it was alright with me either way and we had thrown some names around. "London," she said. "If we were having a girl, that was going to be her name. London. That's a good name." It was a final reminder, on my way out the door, that she was more concerned with me and my story than she was with the one I was going to tell about her- just like she does with the stories she puts on the air.
If you know and love Malorie already, hopefully this piece will help you appreciate her more. If you don't already know her and her heart, we at Pets in Omaha hope you will make an effort to do so. Watch her nightly on WOWT-6 News, follow her on Facebook or on Twitter @MalorieMaddox6 and be glad you have the opportunity to be a member of our great city full of great people like her.