Rescues team up to rescue Dachshunds from breeder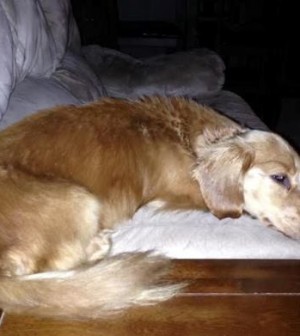 When a rescue is suddenly tasked with caring for 41 unexpected dogs, things get seriously busy. "It's been insane," says Nebraska Dachshund Rescue's Foster Director, Julie Siebler.
A breeder in Arkansas personally contacted Nebraska Dachshund Rescue (NDR) to seek help with dogs she could no longer care for. "For that, we were very grateful," says Siebler. "It was a very difficult decision for her and she wants what is best for the dogs. By contacting our rescue, we were able to assure her that they will not end up in the wrong hands and that they will all be appropriately vetted for all their needs (some of which are unknown) and will be placed in safe, loving foster homes. She did the right thing."
The dogs were transported from Arkansas to Hearts United for Animals's Safe Haven facility in Auburn, NE, on Monday, January 25.  The dogs were then split up between Nebraska Dachshund Rescue, Hearts United for Animals, and Dakota Dachshund Rescue.  Yesterday, NDR transported their dogs directly to Rockbrook Animal Clinic in Omaha to assess them. The dogs received all vaccinations and were treated for fleas and worms. "Each dog had fleas and all of them had worms, too," Siebler says.
Their ears yeast in them, which was also treated.  Toenails were clipped as some had toenails curled up and growing into their pads.  So far, one dog, has been diagnosed as Heartworm positive.  After all this initial vetting, the dogs were then given to foster homes to start life anew with NDR.
Dogs will be ready for adoption after they are all spayed and neutered, free of worms, have received a dental exam and necessary procedures (many are in desperate need of dentals), as well as any other vetting they would require before being adopted. " We want to ensure they are in the best health before they go to their adoptive forever home," Siebler says.
Successful adoption of all these dogs is the ultimate goal, but in the meantime, Siebler says, "The number one need is donations to the rescues.  We all operate as 501c3 all-volunteer organizations and depend on donations to help us save and care for dogs."
If you'd like to help NDR and the other rescues that assisted in the efforts to save these 41 dogs, see the contact information below. You can donate on their websites or email to make arrangements to donate in another way.
*Note- the dogs are NOT at Rockbrook Animal Clinic; the dogs were taken there by NDR for vetting and treatment. The dogs are all currently in NDR foster homes.
Nebraska Dachshund Rescue –
(Web) www.nebraskadachshundrescue.org
(Email) info@nebraskadachshundrescue.org
Hearts United for Animals –
(Web) www.hua.org
Dakota Dachshund Rescue –
(Web) www.dakotadachshundrescue.org
Rockbrook Animal Clinic –
(Web) www.rockbrookanimalclinic.com
(Phone) 402-397-2424