Help Taysia Blue Siberian Husky Rescue
Taysia Blue Siberian Husky Rescue is a 501(c)3 nonprofit organization located in Omaha. Their volunteer mission provides a network to shelter, rehabilitate and re-home Siberian Huskies in the Midwest who are displaced, abused, neglected, abandoned or surrendered by their owners. The goal of the group is to place these dogs in loving, permanent and carefully screened homes.
The group was named for a very special dog who passed away last week. In an effort to praise and memorialize the pup, Taysia Blue is holding a memorial fundraiser in Taysia Blue's honor. If you'd like to help, we urge Omaha's pet community to do so. Open your hearts and give back to this group for all their efforts. Click the Memorial Donation Drive poster on the right side of this page for specific items needed.
Taysia Blue also provides education about the characteristics of the Siberian Husky and general tips on responsible dog ownership. Forums are offered for Siberian Husky and other Northern breed enthusiasts to meet and play. We've seen Taysia Blue at Humane Society events, Memorial events and around town a number of times since our inception.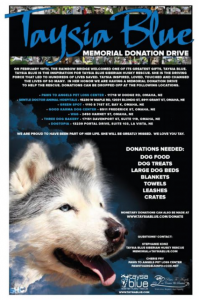 The group receives no public subsidies and is funded solely through donations by adopters and supporters. A lofty but noble mission of the group: "We envision a day when all companion animals no longer face inhumane treatment, abandonment or perish in shelters, a day when there are no more homeless pets."
As we always say, it is a great idea to be mindful of these kind of organizations and the help they constantly need, but now is a great time to help this particular rescue. If you'd like to find out how you can help by volunteering, donating, fostering or giving any other kind of support, click this link for more information from Taysia Blue.
In recent weeks, we've focused on raising awareness of rescue and shelter organizations that ask for and need the help of the surrounding animal community. We're proud of this particular organization and hope to further their mission by shedding some light on the nature of their work. Thanks in advance to any of our readers who help. Help us spread the word about Taysia Blue by sharing this post with friends, family and other members of the community that love animals- especially the majestic Huskies this group loves so much.
To learn more about the organization, follow this link to their homepage. There, you'll find adoptable dogs, memorials, news, events and more.