"We received our final tally on what it costs to have our heart broken"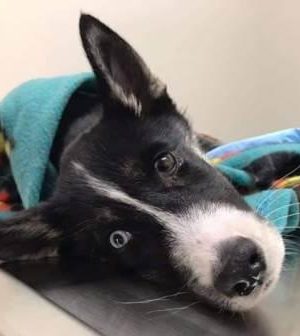 At one location, a bill was paid of almost $400.
At another location a bill was paid of approximately $3,000.
The final location, the bill, that included final services, was paid of over $5,400
That is approximately $9,000 raised in less than a week to try to save a priceless soul like Little Bowie's.
Bowie was a sweet, 13-week-old puppy who passed away this week after an entire community on Facebook and Twitter came together to try to save his life, paying the costs of emergency surgery and blood transfusions after he was abandoned by his family at the hospital.
Feet of intestine removed, reformed colon, all kinds of meds, and all kinds of love. Bowie saw the best and worst of it in his short life. Most of his story is on the Helping Hand for Animals Facebook page which you can follow here.
"He was only 13 weeks old. The story of so many people coming together and donating what they could… some donated even more than $1,000, has been incredible," said Rose Coco of Helping Hand. "I do believe they deserve  a shout out," she said, and we agree.
It's difficult to experience something like this in rescue, but each of Helping Hand's updates and posts on social media reminds us all that #ittakesavillage and that together much can be accomplished for people and animals alike.
"The circle of friends who came together to be Bowie's family achieved this. You all created this miracle," said Coco. "If we could only do this for every living creature in need, every human being suffering, what a wonderful world this would be."