WhyDoPets Blog answers all your canine behavior questions!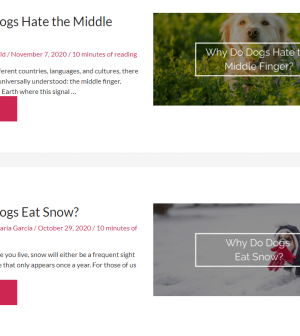 We'd love it if Pets in Omaha was the only companion animal blog you visited, but we know there's so much to discover from so many sources. We'd like to tell you a bit about a new-to-us dog blog, WhyDoPets.
The best dog blogs do something that the thousands of others out there don't do- something unique and special. And with WhyDoPets, dog owners, or those simply wondering about why they've seen a pup do something, can get questions answered from veterinarians and other experts.
For example, you might be wondering why your dogs:
eat snow
bite themselves
lick other dogs in the mouth
eat leaves
bury their food
gnaw at nails
Good news for you: these answers can be found in the latest blog posts on WhyDoPets!
Wondering about the folks behind the site and what they do? Here's a bit from the blog's About Us page:
WhyDoPets is a website that aims to offer the most trusted pet advice on the internet. Launched in April 2020, this site is dedicated to reviewing pet products and giving honest and reliable guidance to pet owners. We are an affiliated site which means our revenue comes from Amazon links. For this reason, we only review the best products on the market.

Whether you're curious about what dog food is the best for your pooch, or what toys are the most mentally stimulating for your pet, we've got it covered. We have a wide variety of information regarding all domesticated animals, but our main focus is dogs and cats, and the products made for these two pets.

WhyDoPets also offers inside knowledge on some of the more peculiar behaviors of pets. We have been featured on a number of well-known websites, thanks to our dependable content.

Our lists of the top items in the pet world, and blog posts, are written by veterinary experts who have over 40 years of industry experience combined. Our contributing writers are veterinarian Dr. Patricia Williams, vet assistant Maria Garcia and Dr. Tom Bakerfield, a doctor of veterinary medicine from Oklahoma. We are a small but skilled team, and if you'd like more information on working with us, take a look at our Careers page. We are always looking for excellent writers to join our team.

We hope you enjoy taking a look around WhyDoPets, and visit us again in the future!
There are a ton of resources on the site, too. Check out this list and see if you'll get your questions answered!
Food for specific breeds of dogs? The site has breeds listed alphabetically, so you can find what you're looking for quickly and easily!
There's also a section for just dry dog foods. There's info there about treats, common information on stomach issues dogs can experience, food that best for dogs with certain canine diseases, and specific diets your pup can try or tweak for better results.
Looking for a bit of info on training your dog? There's a special section where one can find great tips on all things outdoor, even hunting. Special toys that can provide pups with enrichment and incentive are detailed there as well.
Not in need of food ideas, training advice, or toys? Every dog owner needs a bit of guidance on what's best with beauty and care, so make sure to check out the massive resource that is the Beauty section of WhyDoPets.com. In this section, you'll find ideas and recommendations for everything from shampoo to brushes, dog beds to perfumes, and everything in between.
Collars and harnesses are important tools to use with dogs, especially in training and safety. There's a section dedicated to just those things. There's even a special spot that helps you locate the best deals and sales for those important items.
Find these great features of the site and much more today! Check out the website and let us know what you think! The blog can be found at www.whydopets.com.