Events
Here is a calendar of upcoming pet-friendly events happening in Omaha brought to you by our friends at Ralston Arena.
We gather this information from a variety of sources, so it is always best to call around, visit Web sites, and make sure events are still on before heading out to enjoy the town with your pet friends. Want to promote your event? Give us a shout through the contact form located at the top of our main homepage and give as many details as possible, including a link to the Facebook event page, your digital flyer, and dates/times/locations.
February 14, 2019 – Valentine's Day Sale at The Green Spot Omaha
Show your pet the love this Valentine's Day at The Green Spot! Smooch your pooch for a 10% discount! If your pooch smooches you back, you'll receive a 15% discount and if they reciprocate the lovin' like crazy you'll receive a 20% discount! This offer is good on in-stock, regular-priced merchandise on Feb. 14th only!
February 16, 2019 – Curly Tails and Cocktails
On Saturday, February 16, 2019, join Pug Partners for its 6th Annual Curly Tails and Cocktails event from 6 – 9 PM
at Arbor Hall Wedding and Banquet Facility, 14040 Arbor St, Omaha, Nebraska 68144.
This special event directly supports rescue efforts. Tickets are $40 each or $75 for two tickets and includes admission, dinner, and two drink tickets. There will be a live auctioneer, a silent auction, raffles, and a presentation of Pug Partners' mission and achievements for the year.
Social hour begins at 6 p.m. and dinner is served at 7 p.m.
To Purchase Tickets: http://www.pugpartners.com/purchase-tickets-to-curly-tails-cocktails
To Sponsor: http://www.pugpartners.com/sponsorship
To Donate Items: Email terra@pugpartners.com
For more check out the Facebook event page here.

February 23/24, 2019 – I Love My Dog Expo
On Saturday and Sunday, February 23/24, 2019, join Domesti-PUPS for its I Love My Dog Expo! The show is an annual benefit to help support Domesti-PUPS programs to ​provide​ service dogs, therapy dogs and adoptables. Domesti-PUPS is a 501c3 organization headquartered in Lincoln, Nebraska.
Its mission is to improve the quality of life for persons with special needs through the assistance of animals and to promote awareness through education. Domesti-PUPS provides service dogs for persons with disabilities, pet therapy programs, classroom dogs and educational programs. Domesti-PUPS serves clients locally, regionally and nationally.
For more information, visit the group's website at www.domesti-pups.org.
To volunteer, visit the Domesti-PUPS: http://www.domesti-pups.org/get-involved.html​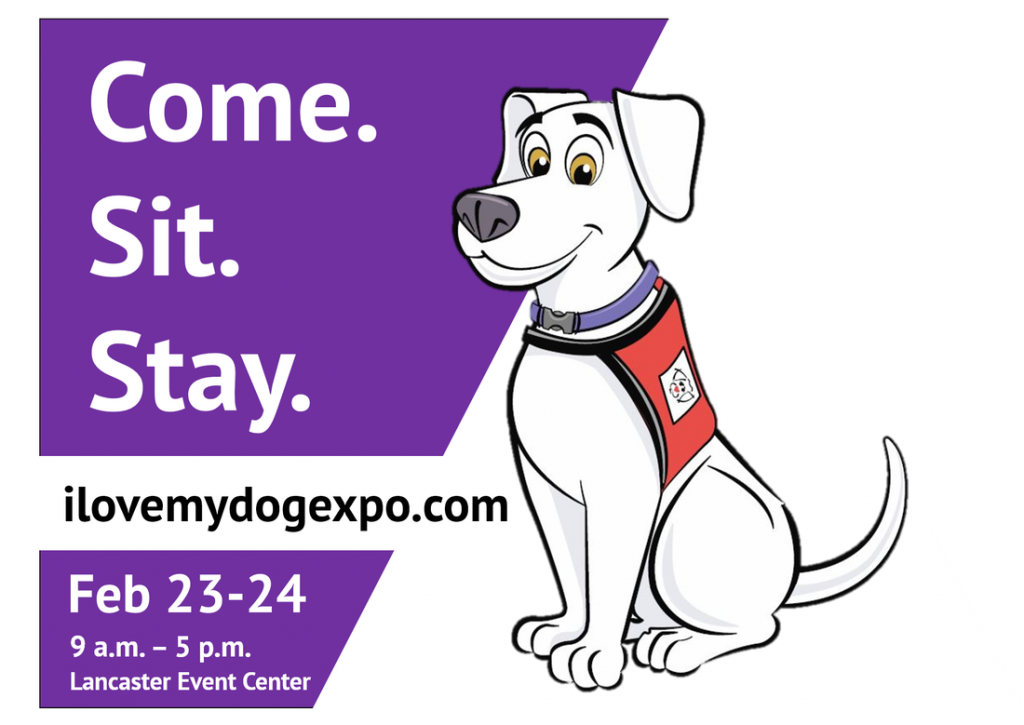 February 24, 2019 – Taylor Made Rescue Rally at the Nebraska Humane Society
Come to this FREE event at NHS on February 24th from 11am-2pm to mingle with animals from tons of local rescues!
Rescues will be set up throughout the shelter!
Most rescues will have adoptable animals with them.
Animal items for sale! t-shirts and swag, bandanas, collars, coats, OH MY!
Education and the opportunity to meet different breeds
Yappy Pack will be serving food, with all proceeds going to the animals at NHS!
Rescues attending include:
Big Dogs Huge Paws
Feline Friendz in Nebraska
Golden Retriever Rescue in Nebraska
Heart of America Newfoundland Rescue
Heartland Greyhound Adoption
Little White Dog Rescue
MidAmerica Boston Terrier Rescue
Midwest Dog Rescue Network
Nebraska Airdale Terrier Rescue
Nebraska Border Collie Rescue
Nebraska/Iowa Italian Greyhound IGCA Rescue
Northern Plains Boxer Rescue
R.u.F.F. Rescue Lincoln, NE
Yappy Pack Serving up delicious food for sale to benefit animals
***More rescues being added weekly! Check back to see who gets added!
March 16/17, 2019 – 2019 Cornhusker Sieger from International Dog Shows
March 18, 2019 – Nebraska Humane Lobby Day
On Monday, March 18, 2019, join animal advocates at the Lincoln Marriott Cornhusker Hotel (333 S. 13th St. in Lincoln) for Nebraska Humane Lobby Day. Volunteers from Bailing Out Benji, Puppy Mill Free Nebraska, and area rescues will be in attendance from 9 a.m. until 2 p.m.
The Nebraska Humane Lobby Day is an opportunity for statewide advocates to voice their concerns regarding the welfare of animals. Bailing Out Benji will host a detailed Citizen Lobbying Session and make an appointment for you to meet with your elected officials and staff. In addition, Bailing Out Benji will be discussing the efforts of local animal rescuers and current bills impacting Nebraska's animals. Tickets are $5.00 per person and will go on sale on February 11. You can pre-register by emailing jnickerson@humanesociety.org.
Click here for more info
.
May 18, 2019 – Tails 'n Trails benefiting local humane organizations
This year's Tails 'n Trails event features a half Marathon, 10k, 5k and 1 mile walk and they will be held on May 18, 2019, at Chalco Hills. The event donates all proceeds to three local animal rescues (Pug Partners, Muddy Paws, and Hands, Hearts & Paws) and the run/walk is dog-friendly!
The event's website is tailsntrailsomaha.com (visit for more information on volunteering or participating) and the event is in its fifth year. More information will be available here as it is available and is also on this Facebook page.
"Tail-Thumping Thursdays!" – Yappy Pack Playtime Groups for 2019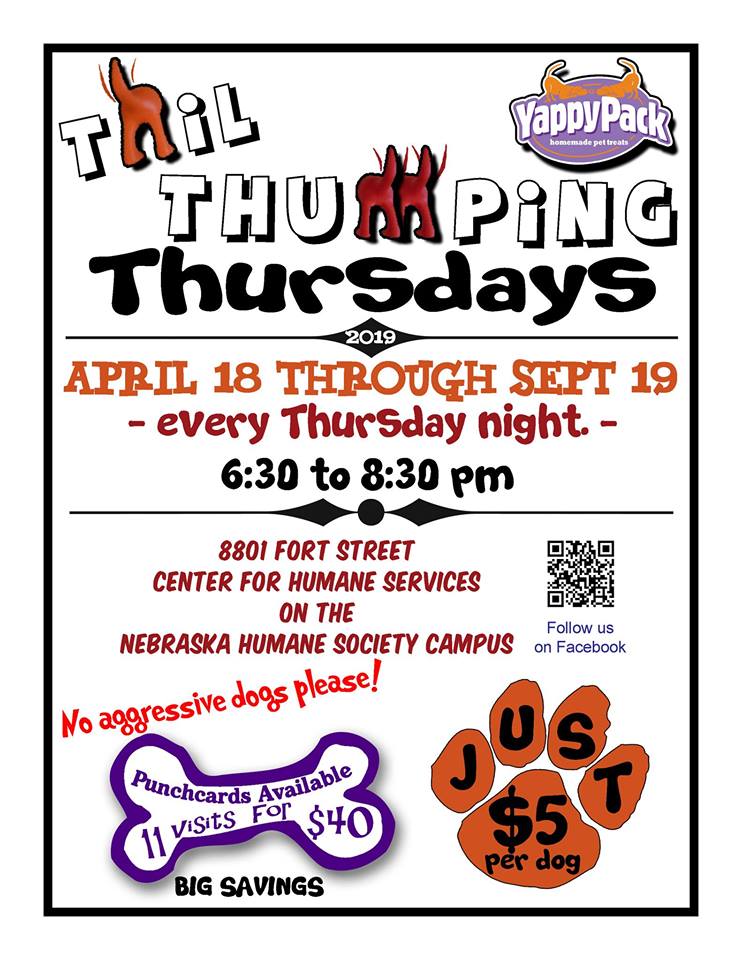 Trimming Claws for a Cause – Every 1st and 3rd Tuesday at The Green Spot Omaha!
Have a coffee, meet the Husky of the month with Karma Coffee and Taysia Blue Siberian Husky and Alaskan Malamute Rescue
On the first Saturday of every month, Taysia Blue will have its "Dog of the Month" at Karma Coffee! Meet the pup, talk to rescue volunteers, and have a cup of joe! Click here for more information.
News and Events from Golden Retriever Rescue in Nebraska (GRRIN)
GRRIN is one of the most popular rescues around and is active all year with events like its signature Gold Rush fundraiser, meet and greets, and expos like Pets in Omaha's Pick-a-Pooch Adoption Days. To see what's going on with GRRIN, click here.
Events from the Nebraska Humane Society
The NHS has weekly, monthly and special events happening all year long! Click here to find a calendar of events from NHS and be sure to check out the NHS Spotlight page on Pets in Omaha for special coverage of events, news and feature stories involving the shelter!
New Adopter Training Workshops from Dharma Dog Training
Are you tired of your dog being out of control? Does your dog not listen? Does he jump on guests, bite, mouth or pull you down the street on walks? Have you recently adopted a new dog? If you have answered yes, or have been looking for answers to your dog's behavioral issues, you are in luck.
Workshops from Kelley McAtee and Dharma Dog Training that will help you and your new dogs adjust to each other. Dharma Dog Basics/New Adopter Training Workshops are aimed at enhancing the new partnerships between humans and dogs for a healthy, balanced and well-behaved life together.
Events from The Green Spot Omaha
Throughout the year, The Green Spot will host a number of events including seminars, many how-to series, meetings, fundraisers and more. The Green Spot's Event page is chock full of events and you can visit them here..
Events from Pug Partners of Nebraska
Throughout the year, Pug Partners hosts meet and greets, fundraisers, and other events you'll want to enjoy with them! If you're looking to adopt a pug or support those who rescue them, see PPoN's event calendar here.
Events from Heartland German Shepherd Rescue
Heartland German Shepherd Rescue's events are held all over the city, all year round. Click here to find their event calendar!
Events from Dogtopia
Check out Dogtopia's Facebook page here for various events throughout the year!
Events from Long Dog Fat Cat!
Join Long Dog Fat Cat for meetups, parties, fundraisers and whatever else it's celebrating! Events can be found on its Facebook page by clicking here.
Events from Woof & Whiskers
Woof and Whiskers opened in November of 2017, is a great friend to shelters and rescues, and would love to see you drop in! Click here to find out what's happening at the store through its Facebook events page.
Events from Beer Paws
Find area events from Beer Paws by seeing its Facebook event page. Click here for the calendar.
Events from Domesti-PUPS
Click here to find out how to meet service dogs and learn about Domesti-PUPS at the organization's events!  

Events from Pets Earth
Pets Earth hosts many meet and greets with local rescue groups. For more on those gatherings and everything else that's happening at Pets Earth, click here.
Events from the Nebraska Rescue Council
Wondering when the next meeting or event from the Nebraska Rescue Council is happening? Click here!
Paws to Angels Events
Paws to Angels is often out in the community, educating people on how to cope with the loss of a pet. Find out where Cherie will be by clicking here.
Events from Nebraska Dachshund Rescue
Check out the busy calendar of Nebraska Dachshund Rescue here. Events happen all the time, so check back often!
Events from Bark Avenue
Bark Avenue's event calendar can be found by clicking here.  

Events from Town & Country Humane Society
Town and Country Humane Society hosts a number of events throughout the year. Find out how you can attend and donate to the shelter by clicking here.  

Events from Midlands Humane Society
Find out where you can find the Council Bluffs shelter out in the community by clicking here.
Events from Nature Dog
Nature Dog is a high quality pet supply store located near 132nd and West Maple Road in Omaha and hosts events throughout the year. Check out the list here that will include meet and greets from area rescues!
Events from Muddy Paws Second Chance Rescue
Click here for an event list full of meet and greets, fundraisers and get togethers from Muddy Paws Second Chance Rescue!
Events from MidAmerica Boston Terrier Rescue
Check out events from MABTR including fundraisers here and all over the region that help the rescue!
$10 Nail Trims at Pucci's every Friday
From 6 to 8 pm, get a $10 nail trim and support rescue! Pucci's is in Countryside Village in Omaha (87th and Pacific).
Omaha Dog Park Advocates' Monthly Meetings
Advocates for the Omaha Dog Parks meet on the 2nd Wednesday of every month EXCEPT December6 p.m. at the Swanson Library 90th & Dodge. For more information about the group visit their Web site here or their Facebook page here.
Training classes at the Nebraska Humane Society
The Nebraska Humane Society, located at 89th and Fort in Omaha, has year-round opportunities for you to train your animals. From basic training commands like "come, sit, stay," to advanced training classes supervised by experienced training professionals, the Humane Society will help you and and your animals (regardless of training experience) become more obedient. Some dogs available for adoption come with free training classes, so ask about that to when adopting. For listings for classes, click here.
Yappytime Stay and Play Canine Playgroup
The Bone Jour Daycare, located on the Omaha Humane Society campus at 88th and Fort Streets, meets each Saturday morning from 9:30 to 11:30 for a bit of doggie playtime with pet friends. Admission is $3 and your puppy pal will have access to two indoor and two outdoor play areas. Feel free to mingle amongst friends or bring a chair to watch the fun unfold. Also, the Yappy Pack is now offering punchcards. Purchase them for $30 – good for 10 visits plus 1 free . For more information, call Hope Wicken of the Yappy Pack at (402) 345-1838, or visit the Nebraska Humane Society's Facebook events page here.
Nebraska Doodles Events
If you have a doodle, you know that your pup is a poodle mixed with some other breed. If you didn't know, now you know! And if you want to get together with other doodle people, check out the Nebraska Doodles Facebook event page here.
Nebraska Vizslas Events
Vizslas are energetic pups and love to socialize! If you've got a vizsla and want to get together with others, check out the Nebraska Vizslas Facebook events page here!