Events
Here is a calendar of upcoming pet-friendly events happening in Omaha brought to you by our friends at Ralston Arena.
We gather this information from a variety of sources, so it is always best to call around, visit Web sites, and make sure events are still on before heading out to enjoy the town with your pet friends. Want to promote your event? Give us a shout through the contact form located at the top of our main homepage and give as many details as possible, including a link to the Facebook event page, your digital flyer, and dates/times/locations.
September 19, 2018 – Dining for Dogs at Cascio's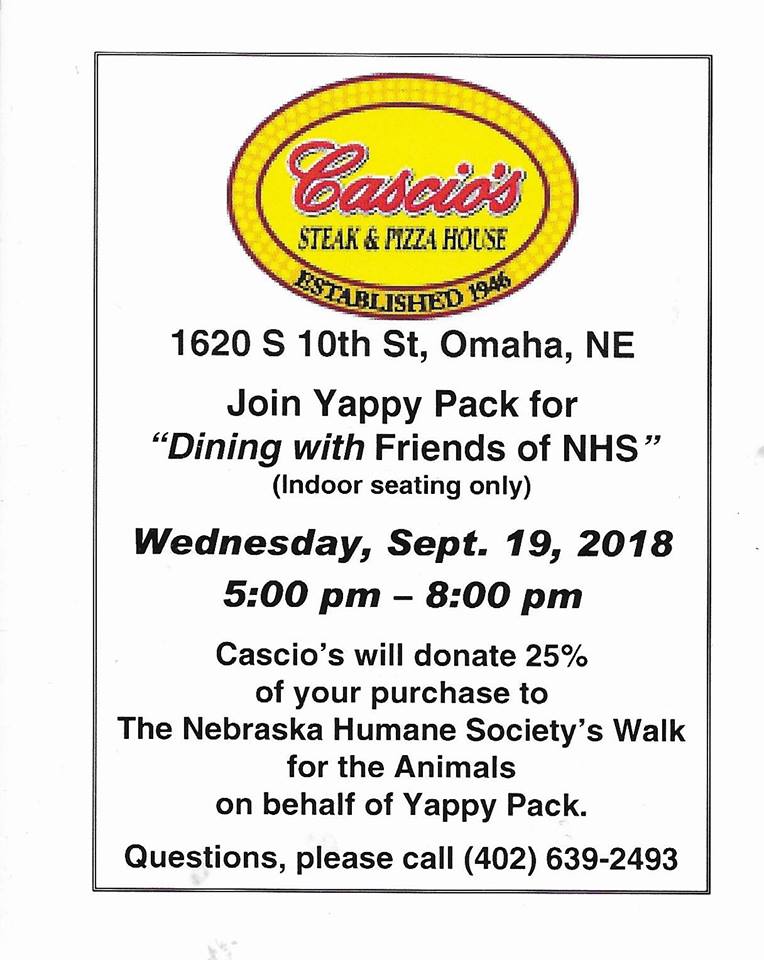 September 23, 2018 – Dog Day at the Pumpkin Patch
Bring your entire family out for a fun day at Skinny Bones pumpkin patch! Doggie admission of $5 will benefit the Nebraska Humane Society (general admission is $13.95 per person, plus tax (two and under are free)).
Skinny Bones is open from 9 am -7 pm, dogs welcome all day!
Costume Contest with Prizes:
Costume Contest Check-in is at 10:30 am, contest begins at 11:00 am.
No aggressive dogs permitted. All dogs must be on a leash at all times, and owners are required to pick up after your dog.
Visit: www.skinnybonespumpkinpatch.com for pricing, activities, and directions!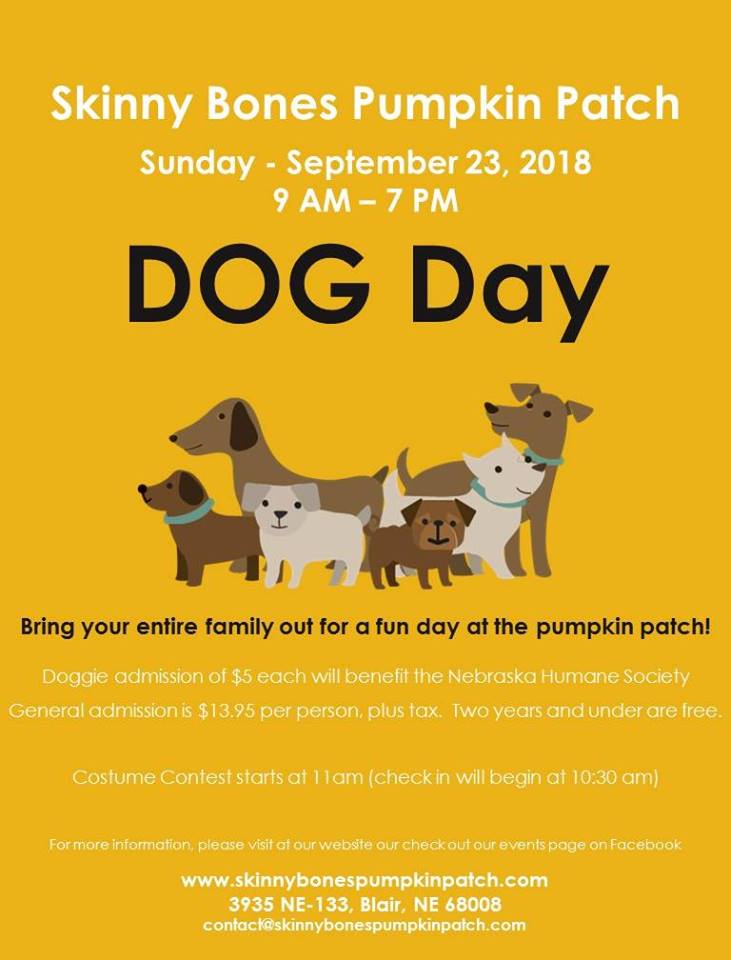 September 28-30, 2018 – Two events from Conquistador K-9
September 30, 2018 – The 2018 Nebraska Humane Society's Margre Durham Walk for the Animals event
On Sept. 30, from 11 am to 2 pm, join the Nebraska Humane Society (89th and Fort St.) for its largest annual event, Walk for the Animals!
As usual, there's the 5k walk/run, rescue groups, vendor booths, a silent auction, food, a beer garden, free parking and a shuttle service, and family activities, but there are also new attractions to see as well.
If you'd like to find out how to help animals, participate in the walk/run, or organize a fundraising group of your own, visit www.nehumanesociety.org/walk.

October 7, 2018 – Gold Rush from Golden Retriever Rescue in Nebraska
Join GRRIN for Gold Rush 2018 on October 7 from noon until 4 p.m.! GRRIN will be celebrating at Offutt Base Lake Park, a gorgeous location with shade trees, a playground for the kids, and plenty of fun activities for all. If you and your canine friends haven't made the drive to Gold Rush before, please plan to attend – there will be plenty of signs and volunteers to direct you. This event is free and open to the public. NOTE: For directions to Gold Rush, click here.
Want to volunteer? Please send an email to goldrush@grrin.org and we'll get in touch with you.
Offutt Base Lake Park
Near 37th & Harlan Lewis Rd.
Bellevue, NE
FREE ADMISSION!
Donations to GRRIN gratefully accepted.
All leashed, well-behaved dogs welcome!
Event will be held rain or shine.
Watch GRRIN's Facebook and Twitter pages for the most up-to-date information:
facebook.com/grrin
@GRRINebraska

October 14, 2018 – Barks and Boos Halloween Bash
A Halloween FUNraiser for dogs and their people to help raise funds for the opening of Omaha Dog Bar. Hosted by Omaha Dog Bar and Ripley & Rue.
Hold on to your bacon people, this event is sure to be the scariest and funnest of them all. Dress your pups up in their Halloween costume and head downtown at our special Haunted Warehouse location in the new Makerhood (where Hutchfest was located just north of TD Ameritrade Stadium) for some Trick or Treating, games, Infusion brews and cocktail, a beer garden/bark park and of course a costume contest!
DETAILS
• 21+ over (Must have valid ID)
• Tickets are $25 and should be purchased in advance. You'll receive 2 drink tickets to the Infusion Brewery bar, access to all games and fun activities and entry to the costume contest. ($10 of your ticket fee goes directly towards our fundraising efforts!)
• Tickets are per dog
• First 30 ticket purchasers will receive a Barks and Boos Tote Bag full of goodies. Sponsored by Omaha Dog Bar and Ripley and Rue
• Infusion Brewing Company will be serving the drinks! They will have 3 different brews and a few house cocktails available
• Ripley & Rue will be there with a selection of their accessories and a special ODB themed bandana! Puparazzi sponsored by Ripley + Rue as well
• A vendor village full of local dog-friendly shops and services will be present. Details below!
• A local radio station will be mixing up some scary tunes!
• Graffiti artist will be set up doing special dog art
• Costume contest with the coolest prizes! (Categories announced soon)
OUR PAWSOME SPONSORS AND VENDORS:
Ripley & Rue
Infusion Brewing Company
Beer Paws
Long Dog Fat Cat Midtown Crossing
Love Yo Pup
Brixtix Bakery for Dogs
mazzyco
Pets Earth
Pet Wants West Omaha
Downtown Dog Walking
Farnam Pet Hospital
RULES FOR FURRY FRIENDS
• Dog(s) over 1 years old must be spayed or neutered. No dogs in heat.
• Puppies must be older than 4 month of age and be current on puppy vaccinations.
• Dog(s) must be current on all vaccinations and on a tick/flea preventative
• Dog(s) must be socialized and good with other dogs
All breeds are welcome that follow the above guidelines
WHY?
Before we confirm on a Midtown Omaha location, we will be hosting a series of Pop-Ups in order to fundraise and come together as a community. This will be your chance to learn more about Omaha Dog Bar, socialize your pups, socialize with other Omaha humans, and enjoy a refreshing beverage! All proceeds will go towards our permanent location.
NO EXCHANGES OR REFUNDS
DAY OF TICKETS AT DOOR WILL BE $30
For more information, check out the event's Facebook page here.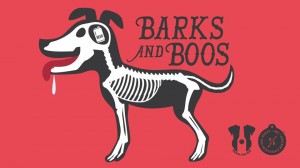 October 24, 2018 – Pet Costumes, food, and fun that benefits the Nebraska Humane Society
On Wednesday, Oct. 24, join the Nebraska Humane Society's Yappy Pack at Quaker Steak & Lube in Council Bluffs to dine with pups, raise money for Nebraska's largest shelter, and watch a pet costume contest!
The event goes from 5 pm until 8 pm and is located at 3320 Mid America Drive in C.B.
Ten percent of your purchase will be sent straight to the Nebraska Humane Society's Walk for the Animals on behalf of Yappy Pack. Participation in the canine costume contest during this event is $5.00 per dog and judging starts at 7:00pm.
Questions? Please call 402.639.2493.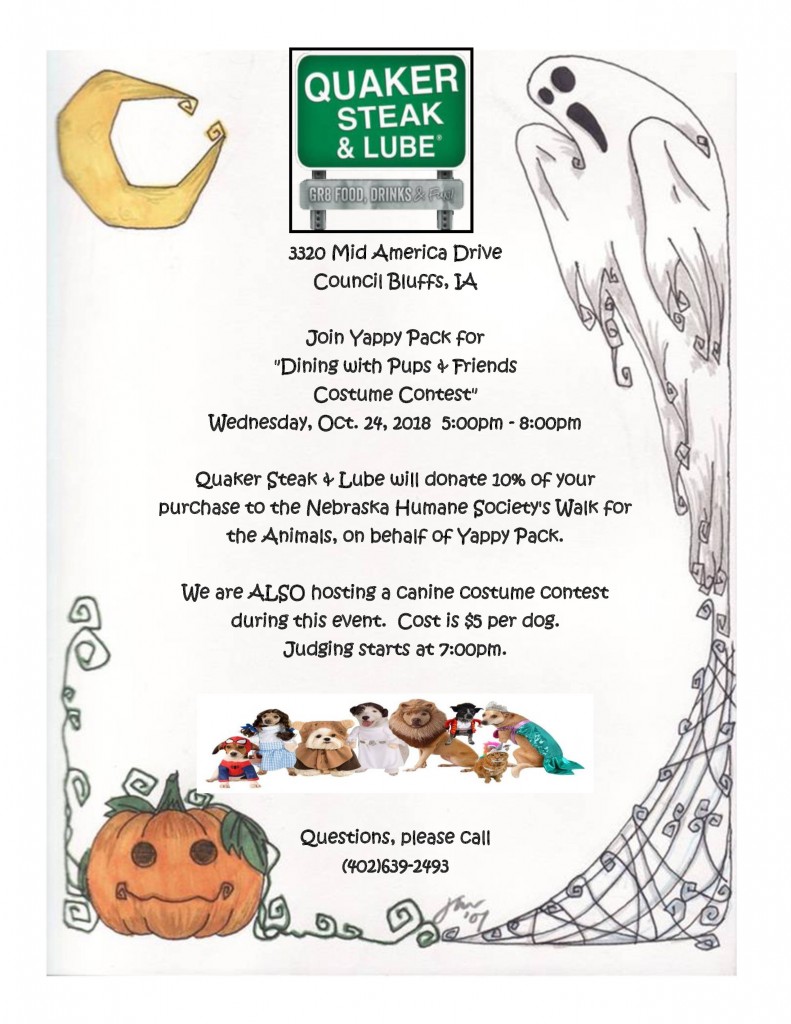 October 27, 2018 – Boston Boo! 2018
Check out this fun, annual event from MidAmerica Boston Terrier Rescue!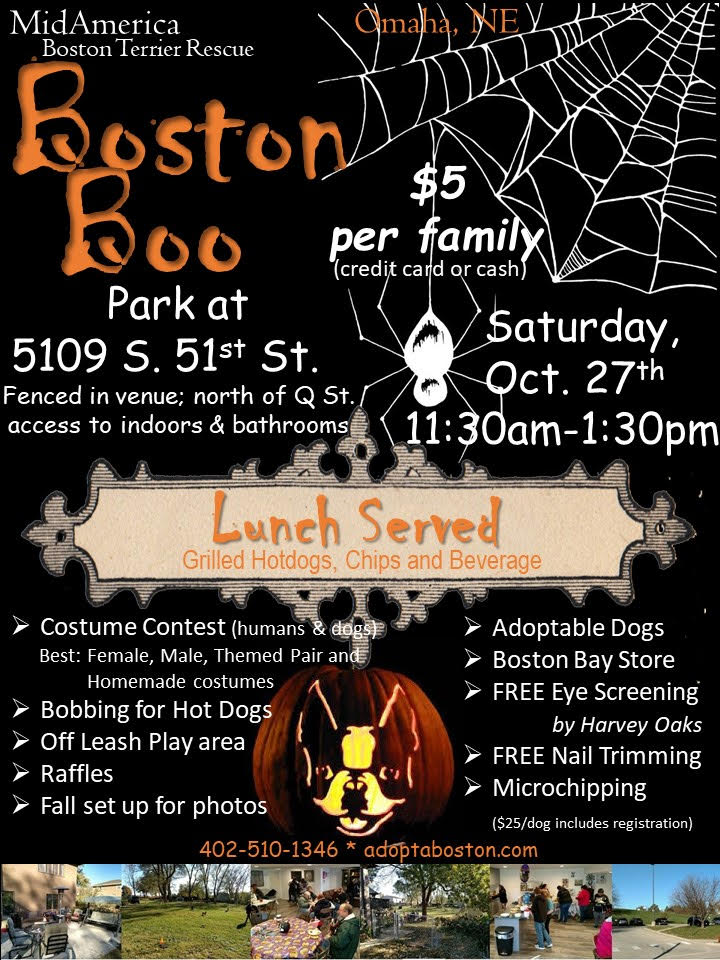 October 27, 2018 – Hallowooooooooooo! A Halloween-themed event from Taysia Blue
On October 27, 2018, join Taysia Blue Siberian Husky and Alaskan Malamute Rescue for its Halloween-themed event, Fur Ball 2018.
From 6 PM – 9 PM, enjoy dogs and rescue in this unique event from one of our area's most popular rescues.
The Omaha Marriott (102nd and Regency) will host the event and more information can be found at http://taysiabluefurball.com/ as the event nears. Also, be sure to visit the Facebook event page here.

October 28, 2018 – 10th Annual Pug-o-Ween Celebration from Pug Partners
On Sunday, October 28, 2018, Pug Partners will be celebrating the 10th Annual Pug-O-Ween event, the largest pug event in Nebraska! From noon until 4 pm, join pug lovers at the Army National Guard building (6929 Mercy Rd) for fun, games, and a wonderful opportunity to learn about the rescue group and its mission. There will be many pugs, some available for adoption, and the group would love to see your wrinkle-faced, curly-tailed buddy too!
More details are available on the Facebook event page here.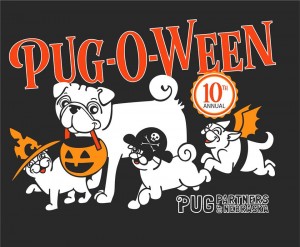 Trimming Claws for a Cause – Every 1st and 3rd Tuesday at The Green Spot Omaha!
Have a coffee, meet the Husky of the month with Karma Coffee and Taysia Blue Siberian Husky and Alaskan Malamute Rescue
On the first Saturday of every month, Taysia Blue will have its "Dog of the Month" at Karma Coffee! Meet the pup, talk to rescue volunteers, and have a cup of joe! Click here for more information.
News and Events from Golden Retriever Rescue in Nebraska (GRRIN)
GRRIN is one of the most popular rescues around and is active all year with events like its signature Gold Rush fundraiser, meet and greets, and expos like Pets in Omaha's Pick-a-Pooch Adoption Days. To see what's going on with GRRIN, click here.
Events from the Nebraska Humane Society
The NHS has weekly, monthly and special events happening all year long! Click here to find a calendar of events from NHS and be sure to check out the NHS Spotlight page on Pets in Omaha for special coverage of events, news and feature stories involving the shelter!
New Adopter Training Workshops from Dharma Dog Training
Are you tired of your dog being out of control? Does your dog not listen? Does he jump on guests, bite, mouth or pull you down the street on walks? Have you recently adopted a new dog? If you have answered yes, or have been looking for answers to your dog's behavioral issues, you are in luck.
Workshops from Kelley McAtee and Dharma Dog Training that will help you and your new dogs adjust to each other. Dharma Dog Basics/New Adopter Training Workshops are aimed at enhancing the new partnerships between humans and dogs for a healthy, balanced and well-behaved life together.
Events from The Green Spot Omaha
Throughout the year, The Green Spot will host a number of events including seminars, many how-to series, meetings, fundraisers and more. The Green Spot's Event page is chock full of events and you can visit them here..
Events from Pug Partners of Nebraska
Throughout the year, Pug Partners hosts meet and greets, fundraisers, and other events you'll want to enjoy with them! If you're looking to adopt a pug or support those who rescue them, see PPoN's event calendar here.
Events from Heartland German Shepherd Rescue
Heartland German Shepherd Rescue's events are held all over the city, all year round. Click here to find their event calendar!
Events from Dogtopia
Check out Dogtopia's Facebook page here for various events throughout the year!
Events from Long Dog Fat Cat!
Join Long Dog Fat Cat for meetups, parties, fundraisers and whatever else it's celebrating! Events can be found on its Facebook page by clicking here.
Events from Woof & Whiskers
Woof and Whiskers opened in November of 2017, is a great friend to shelters and rescues, and would love to see you drop in! Click here to find out what's happening at the store through its Facebook events page.
Events from Beer Paws
Find area events from Beer Paws by seeing its Facebook event page. Click here for the calendar.
Events from Domesti-PUPS
Click here to find out how to meet service dogs and learn about Domesti-PUPS at the organization's events!  

Events from Pets Earth
Pets Earth hosts many meet and greets with local rescue groups. For more on those gatherings and everything else that's happening at Pets Earth, click here.
Events from the Nebraska Rescue Council
Wondering when the next meeting or event from the Nebraska Rescue Council is happening? Click here!
Paws to Angels Events
Paws to Angels is often out in the community, educating people on how to cope with the loss of a pet. Find out where Cherie will be by clicking here.
Events from Nebraska Dachshund Rescue
Check out the busy calendar of Nebraska Dachshund Rescue here. Events happen all the time, so check back often!
Events from Bark Avenue
Bark Avenue's event calendar can be found by clicking here.  

Events from Town & Country Humane Society
Town and Country Humane Society hosts a number of events throughout the year. Find out how you can attend and donate to the shelter by clicking here.  

Events from Midlands Humane Society
Find out where you can find the Council Bluffs shelter out in the community by clicking here.
Events from Nature Dog
Nature Dog is a high quality pet supply store located near 132nd and West Maple Road in Omaha and hosts events throughout the year. Check out the list here that will include meet and greets from area rescues!
Events from Muddy Paws Second Chance Rescue
Click here for an event list full of meet and greets, fundraisers and get togethers from Muddy Paws Second Chance Rescue!
Events from MidAmerica Boston Terrier Rescue
Check out events from MABTR including fundraisers here and all over the region that help the rescue!
$10 Nail Trims at Pucci's every Friday
From 6 to 8 pm, get a $10 nail trim and support rescue! Pucci's is in Countryside Village in Omaha (87th and Pacific).
Omaha Dog Park Advocates' Monthly Meetings
Advocates for the Omaha Dog Parks meet on the 2nd Wednesday of every month EXCEPT December6 p.m. at the Swanson Library 90th & Dodge. For more information about the group visit their Web site here or their Facebook page here.
Training classes at the Nebraska Humane Society
The Nebraska Humane Society, located at 89th and Fort in Omaha, has year-round opportunities for you to train your animals. From basic training commands like "come, sit, stay," to advanced training classes supervised by experienced training professionals, the Humane Society will help you and and your animals (regardless of training experience) become more obedient. Some dogs available for adoption come with free training classes, so ask about that to when adopting. For listings for classes, click here.
Yappytime Stay and Play Canine Playgroup
The Bone Jour Daycare, located on the Omaha Humane Society campus at 88th and Fort Streets, meets each Saturday morning from 9:30 to 11:30 for a bit of doggie playtime with pet friends. Admission is $3 and your puppy pal will have access to two indoor and two outdoor play areas. Feel free to mingle amongst friends or bring a chair to watch the fun unfold. Also, the Yappy Pack is now offering punchcards. Purchase them for $30 – good for 10 visits plus 1 free . For more information, call Hope Wicken of the Yappy Pack at (402) 345-1838, or visit the Nebraska Humane Society's Facebook events page here.
Nebraska Doodles Events
If you have a doodle, you know that your pup is a poodle mixed with some other breed. If you didn't know, now you know! And if you want to get together with other doodle people, check out the Nebraska Doodles Facebook event page here.
Nebraska Vizslas Events
Vizslas are energetic pups and love to socialize! If you've got a vizsla and want to get together with others, check out the Nebraska Vizslas Facebook events page here!