Events
Here is a calendar of upcoming pet-friendly events happening in Omaha brought to you by our friends at Ralston Arena.
We gather this information from a variety of sources, so it is always best to call around, visit Web sites, and make sure events are still on before heading out to enjoy the town with your pet friends. Want to promote your event? Give us a shout through the contact form located at the top of our main homepage and give as many details as possible, including a link to the Facebook event page, your digital flyer, and dates/times/locations.
June 22, 2018 – Glow Golf Fundraiser for Muddy Paws Second Chance Rescue

June 23/24, 2018 – Summer Kick-off Pawty at the Green Spot Omaha
The Green Spot is starting the summer off right! Although it might seem like it's already arrived, join TGS the weekend of June 23-24 to celebrate the official kick-off to summer with a P-A-W-T-Y! TGS will have doggie pools outside for our canine companions to splash it up, raffles, give-aways, plus refreshments and free samples inside for both pets and their people! There will also be a ton of great sales going on, including a special last-chance sidewalk sale (items up to 75% OFF!), so bring out the hounds and take part in the fun!
For more information, click here. 

June 27, 2018 – Dining for Dogs benefiting the Nebraska Humane Society

June 29/30, 2018 – Pawp Up Sale benefiting Muddy Paws Second Chance Rescue

June 30, 2018 – Heartland German Shepherd Fundraiser and Meet and Greet
For more information on the event, see the HUGS Facebook event page here.
Join us on Saturday, June 30th, at NE Realty (168th & Dodge St) from 11:30am-2:30pm! Donate at least $5/per person and enjoy a hamburger/hot dog (or vegan burger/dog) with all the fixin's (pasta or potato salad, coleslaw, baked beans), dessert and fruit salad. Your leashed dog is welcome at the event. We will have a couple of $1 games for the dogs, including bobbing for hot dogs, and an agility course, as well as a Patriotic Dog Costume contest! The humans will be able to buy tickets to play our ring toss game for prizes, and participate in a raffle. We will be set up on the patio, with parking available on the West side. As always, all proceeds will benefit the HUGS dogs. We hope to see you there!
If you plan on meeting the foster dogs or plan to bring yours, please read our event guidelines here: http://heartlandgsrescue.rescuegroups.org/info/display?PageID=18110
July 14/15, 2018 – Pets in Omaha's Pick-a-Pooch Adoption Days
This summer, celebrate rescue and shelter organizations with us as we bring over 20 humane organizations to the Ralston Arena! Like previous years, the events will be held at Ralston Arena (7300 Q St.) and will fill not only the main event floor, but will include all of its surrounding concourse. Dozens of shelter and rescue groups will be in attendance and over 100 vendors from all sorts of area industries will allow you to shop on your way to the next dog-and-cat stations.
For an idea of what to expect, please see our 2017 Pick-a-Pooch Preview post here.
The event will take place July 14 and 15, 2018 and we'll be bringing you details as we get closer to the summer.
If you'd like to be a sponsor, a vendor, or would like to learn how to bring your shelter or rescue volunteers and adoptable animals, email team@petsinomaha.com or our founder, Lee Legenhausen, at cyberlee3@cox.net.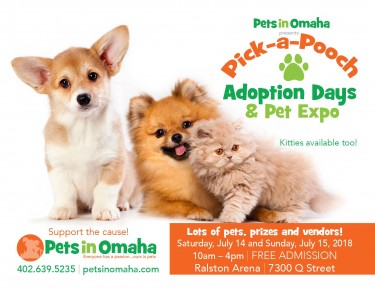 July 25, 2018 – Dining for Dogs benefiting the Nebraska Humane Society

August 5, 2018 – Adoption Event at Woof & Whiskers
On August 5, join Woof & Whiskers for an adoption event with The Good Life Bulldog Rescue!
From 2-4 p.m. at 3506 N 147th Street, Suite 128 in Omaha, Woof & Whiskers will team up with The Good Life to show off adoptable dogs who would love to meet you. Check out the store, learn about the rescue, and meet some pups needing homes.
Click here to find the event on Facebook. 

September 15, 2018 – Bark After Dark from Bailing Out Benji
Hosted by 
Bailing Out Benji
, this will be a night to celebrate and support one of the area's biggest humane and educational groups. See details below and make sure to visit
the event's Facebook page
for updates and info.
When: 9-15-18 at 6 pm
Where: Forte, 615 3rd St. Des Moines, IA 50309
Tickets will be available on June 1 by visiting www.bailingoutbenji.com
Details from Mindi Callison, founder of Bailing Out Benji:
Since our founding in 2011, Bailing Out Benji has educated millions of people about the cruel puppy mill industry through our advocacy and rescue efforts- but we couldn't have done this alone. You have been crucial in helping us grow and reach an audience that we have never been able to before. We have decided that this Puppy Mill Awareness Day weekend, we want to invite our closest friends and supporters to our first annual "Bark After Dark" Gala on Saturday, September 15th, 2018!This semi-formal event will benefit our nationwide advocacy efforts, as well as going towards the vet care of the over 500 puppy mill dogs we have saved in the last 4 years. Tickets will be $30 each ($50 per couple) and will include admission, dinner, dessert and drinks. There will be a silent auction and raffle with many donated items, as well as special guests from all over the country- including Actress Kristen Renton from the hit series "Sons of Anarchy" and our Emcee for the evening will be Lou Sipolt from our local "We Are Iowa" news station. You will also get the opportunity to meet some of our volunteers from all over the country who will be traveling in for the evening! We will also have a red carpet, photo backdrop hosted by MMC photography with free photos being taken of this special night.Tickets are not yet available, but we want you to have plenty of time to mark your calendars and figure out travel plans for this amazing night benefitting the puppy mill dogs! The location is very close to the Des Moines airport and there are many hotels within a mile of the Gala.We are currently looking for sponsors for the evening as well! Whether you are a supporter, an owner of a puppy mill dog, a volunteer for us (or another organization) or even a business owner- we have a sponsorship level that everyone can meet! If you are interested in learning more about how you can become a sponsor, send an email to bailingoutbenji@gmail.com with "Bark After Dark Sponsor" in the subject line.Thank you so much for all of your support over the years and thank you for falling in love for every puppy mill dog we've saved. We hope to see you on September 15th!

Trimming Claws for a Cause – Every 1st and 3rd Tuesday at The Green Spot Omaha!

Have a coffee, meet the Husky of the month with Karma Coffee and Taysia Blue Siberian Husky and Alaskan Malamute Rescue
On the first Saturday of every month, Taysia Blue will have its "Dog of the Month" at Karma Coffee! Meet the pup, talk to rescue volunteers, and have a cup of joe! Click here for more information.
News and Events from Golden Retriever Rescue in Nebraska (GRRIN)
GRRIN is one of the most popular rescues around and is active all year with events like its signature Gold Rush fundraiser, meet and greets, and expos like Pets in Omaha's Pick-a-Pooch Adoption Days. To see what's going on with GRRIN, click here.
Events from the Nebraska Humane Society
The NHS has weekly, monthly and special events happening all year long! Click here to find a calendar of events from NHS and be sure to check out the NHS Spotlight page on Pets in Omaha for special coverage of events, news and feature stories involving the shelter!
New Adopter Training Workshops from Dharma Dog Training
Are you tired of your dog being out of control? Does your dog not listen? Does he jump on guests, bite, mouth or pull you down the street on walks? Have you recently adopted a new dog? If you have answered yes, or have been looking for answers to your dog's behavioral issues, you are in luck.
Workshops from Kelley McAtee and Dharma Dog Training that will help you and your new dogs adjust to each other. Dharma Dog Basics/New Adopter Training Workshops are aimed at enhancing the new partnerships between humans and dogs for a healthy, balanced and well-behaved life together.
Events from The Green Spot Omaha
Throughout the year, The Green Spot will host a number of events including seminars, many how-to series, meetings, fundraisers and more. The Green Spot's Event page is chock full of events and you can visit them here..
Events from Pug Partners of Nebraska
Throughout the year, Pug Partners hosts meet and greets, fundraisers, and other events you'll want to enjoy with them! If you're looking to adopt a pug or support those who rescue them, see PPoN's event calendar here.
Events from Heartland German Shepherd Rescue
Heartland German Shepherd Rescue's events are held all over the city, all year round. Click here to find their event calendar!
Events from Dogtopia
Check out Dogtopia's Facebook page here for various events throughout the year!
Events from Long Dog Fat Cat!
Join Long Dog Fat Cat for meetups, parties, fundraisers and whatever else it's celebrating! Events can be found on its Facebook page by clicking here.
Events from Woof & Whiskers
Woof and Whiskers opened in November of 2017, is a great friend to shelters and rescues, and would love to see you drop in! Click here to find out what's happening at the store through its Facebook events page.
Events from Beer Paws
Find area events from Beer Paws by seeing its Facebook event page. Click here for the calendar.
Events from Domesti-PUPS
Click here to find out how to meet service dogs and learn about Domesti-PUPS at the organization's events!  

Events from Pets Earth
Pets Earth hosts many meet and greets with local rescue groups. For more on those gatherings and everything else that's happening at Pets Earth, click here.
Events from the Nebraska Rescue Council
Wondering when the next meeting or event from the Nebraska Rescue Council is happening? Click here!
Paws to Angels Events
Paws to Angels is often out in the community, educating people on how to cope with the loss of a pet. Find out where Cherie will be by clicking here.
Events from Nebraska Dachshund Rescue
Check out the busy calendar of Nebraska Dachshund Rescue here. Events happen all the time, so check back often!
Events from Bark Avenue
Bark Avenue's event calendar can be found by clicking here.  

Events from Town & Country Humane Society
Town and Country Humane Society hosts a number of events throughout the year. Find out how you can attend and donate to the shelter by clicking here.  

Events from Midlands Humane Society
Find out where you can find the Council Bluffs shelter out in the community by clicking here.
Events from Nature Dog
Nature Dog is a high quality pet supply store located near 132nd and West Maple Road in Omaha and hosts events throughout the year. Check out the list here that will include meet and greets from area rescues!
Events from Muddy Paws Second Chance Rescue
Click here for an event list full of meet and greets, fundraisers and get togethers from Muddy Paws Second Chance Rescue!
Events from MidAmerica Boston Terrier Rescue
Check out events from MABTR including fundraisers here and all over the region that help the rescue!
$10 Nail Trims at Pucci's every Friday
From 6 to 8 pm, get a $10 nail trim and support rescue! Pucci's is in Countryside Village in Omaha (87th and Pacific).
Omaha Dog Park Advocates' Monthly Meetings
Advocates for the Omaha Dog Parks meet on the 2nd Wednesday of every month EXCEPT December6 p.m. at the Swanson Library 90th & Dodge. For more information about the group visit their Web site here or their Facebook page here.
Training classes at the Nebraska Humane Society
The Nebraska Humane Society, located at 89th and Fort in Omaha, has year-round opportunities for you to train your animals. From basic training commands like "come, sit, stay," to advanced training classes supervised by experienced training professionals, the Humane Society will help you and and your animals (regardless of training experience) become more obedient. Some dogs available for adoption come with free training classes, so ask about that to when adopting. For listings for classes, click here.
Yappytime Stay and Play Canine Playgroup
The Bone Jour Daycare, located on the Omaha Humane Society campus at 88th and Fort Streets, meets each Saturday morning from 9:30 to 11:30 for a bit of doggie playtime with pet friends. Admission is $3 and your puppy pal will have access to two indoor and two outdoor play areas. Feel free to mingle amongst friends or bring a chair to watch the fun unfold. Also, the Yappy Pack is now offering punchcards. Purchase them for $30 – good for 10 visits plus 1 free . For more information, call Hope Wicken of the Yappy Pack at (402) 345-1838, or visit the Nebraska Humane Society's Facebook events page here.
Nebraska Doodles Events
If you have a doodle, you know that your pup is a poodle mixed with some other breed. If you didn't know, now you know! And if you want to get together with other doodle people, check out the Nebraska Doodles Facebook event page here.
Nebraska Vizslas Events
Vizslas are energetic pups and love to socialize! If you've got a vizsla and want to get together with others, check out the Nebraska Vizslas Facebook events page here!