About
Our Mission…
Our mission at Pets In Omaha is to find homes for animals and prepare pet owners to provide those animals with an environment in which they can attain a high quality of life. We'll help animals by promoting adoption and help people by presenting information, giving advice, utilizing resources and connecting people with pet partners in their community.
In the end, building relationships is the most important thing and the focus of our efforts will start with finding animals homes. Our web site, full of features, news and resources, will be the vehicle to do that.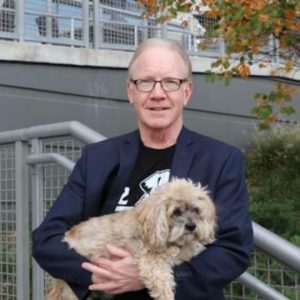 Through our outreach efforts, we'll do our best to decrease the number of homeless pets and increase the level of care each animal receives from its owner. The more people we can reach, the more animals we can help, so we're counting on the communities we work in to help us further our mission by visiting our site, becoming advocates for animals and spreading the word about the work we do.
Help us, and together, we can make life better for every animal and every animal lover through community building and adoption.
Our Founder's Story
Animals are in my memory as far back as it goes. I grew up on a farm, an only child. My father was a veterinarian. Given those three factors, you can imagine how often I was in the presence of animals. Since I was a little boy, I didn't just have animals, I had animals around that I called pets. I have more or less always had a pet. They've been mostly dogs; I'm more suited for a dog than anything else, but given my background, I love all kinds of critters.
We can learn a lot from our pets. Among these lessons are unconditional love, responsibility, sharing, caring, and much more, like how to become a compassionate and empathetic person. The benefits of pet ownership are endless. Pets become part of our family- a BIG part. The sad truth about pet ownership is that they are only here for a short time and that makes it tough at the end, but the joy they bring us is immeasurable. We should recognize how special they are and take advantage of owning pets as much as our lifestyles allow.
I realize pets are a big deal all over the country, but I live here in the Heartland- specifically, Omaha, Nebraska. So, I thought, in this day and age, why not put together a Web site for people and pets tailored for people here in the Midwest? Everything they need to know about pets, pet services, and events could be found in one spot if we could only develop that "spot!"
This idea soon became a vision that I wanted to execute. "Now," I said to myself, "how to go about completing this task?" I started by contacting a friend who has been in the marketing business for 40 years. We brainstormed. We assembled a team. We started to make this idea into a clear vision, then a reality. Together, we started what is now known as "Pets in Omaha." Pets in Omaha is a comprehensive, informational, and fun online magazine that will aid pet owners in the care of their animals, let people discover the strength of Omaha's pet community, and show off how much we cherish our animals. We also want to do our best to help the Humane Society and local rescue groups spread their message and missions.
Pet lovers- this is your site. Your "resource page," if you will. We will strive to be the most comprehensive place to find whatever you are looking for that's pet related. If you can't find what you are looking for here, let us know! We will make it happen!
This is an interactive site. We want your participation and your input. Any ideas you have to make this a better community for our pets, let us know!
Our goal is to bring you the best and most helpful online pet magazine available for pet owners in and around Omaha. And, of course, we want to see your pets! You'll be able to show them off here and we will help you care for them the best you can.
Please visit our sponsors: without them this site would not be possible. They are greatly appreciated, and they are pet lovers as well. We hope you find this site fun, friendly, and informative. Please go to our Facebook page and "like" us, follow us on Twitter, you may register on PetsInOmaha.com so you can stay in touch and utilize all our great information and features! Thanks for looking, and keep coming back for updated information, photos and enhancements.
Best to you and your pets…
Lee Legenhausen- founder of Pets in Omaha
go061423