11 home upgrades for pets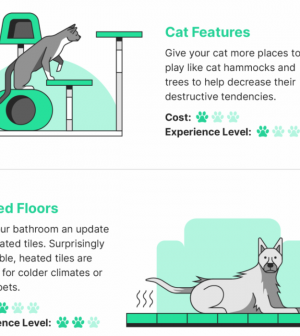 Many millenials are buying homes, like those of all generations previous to them, but something this group of first-timers is doing more often than their predecessors is buying with a pets-first priorities list.
If you are not able to buy or just want to make your home a little more pet-friendly, take a peek at a few upgrades you can make happen here.
Hippo.com has suggested to us a few home upgrades for your furry friends, and we're happy to pass on the ideas!
Doggy Door
Hide-Away Feeding Areas
Disguised Litter Boxes
Cat Features
Heated Floors
Outdoor "Catio" Space
Ramps
Pup Pool
Dog House
Dog Run
Bathing Station
And for those with an inkling to make home a little "smarter," here are some upgrades that are trending:
Door sensors let you keep track of when your pet comes and goes — you can even set these devices up to work with doggy doors.
Fetch machines provide hours of playtime for your pup so you don't have to lift a finger.
GPS trackers are small enough to attach to your pet's collar so you can more easily find them if they get lost.
Indoor cameras allow you to keep an eye on your pet's activities when you leave the house.
Motion-censored feeding bowls automatically refill to help your pet stay hydrated and fed 24/7.
Smart litter boxes
Just for you, take a look at this informational graphic that will help your family decide which project to take on next!

While some of these projects require more work than others, there's no doubt you'll want to show off your completed product after you finish. Before snapping a picture and sharing online, try out our printable sign to hang around your pet's neck so they can be in the picture too! You can pose them in front of your project using treats or set up your phone to get a few action shots. Either way, you'll come out with some adorable photos to celebrate your hard work.