2019 Holiday Guide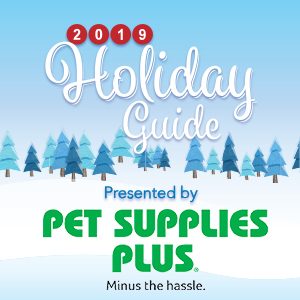 We all know what time of year it is. For better or worse, bring on the family gatherings, seasonal flavors and scents, too much food, and shopping (among other things, of course).
And with the season comes a huge holiday event calendar for pet lovers! Whether you're looking for a pet supply store near you to meet adoptable rescue animals (like our Holiday Guide sponsor, Pet Supplies Plus), an opportunity to grab a professional photo of your pets with Santa or the Grinch, or need some ideas for fun things to do in the community, you've come to the right place. The 2019 Pets in Omaha Holiday Guide has much to share.
Upcoming Events from Pet Supplies Plus
Meet and Greet with Hands, Hearts & Paws – December 14
Meet and Greet with Little White Dog Rescue – January 4 at 11 am
December 8 and 15 – Santa Photos at Dogtopia benefiting Airedale Terrier Rescue
Airedale Terrier Rescue and Adoption will be doing pet pictures with Santa at both Dogtopia locations. December 8 at 14485 W. Center location and 13239 Portal Drive December 15. Hours are 1-4 at both locations. Pictures are $10.00 cash or check and all proceeds benefit rescue.
December 15, 2019 – Promise for Paws Holiday Open House
Open house hosted by a few of our vintage pups. Human treats and hot cocoa, coffee, and cider. The long awaited calendars will be available for purchase. Click here for information.
December 20, 2019 – Holiday Shopping at the Green Spot
Take a peek at this event at the Green Spot along with others at the store by clicking here!
Thanks to Pet Supplies Plus for sponsoring the 2019 Holiday Guide from Pets in Omaha! Visit its website here, like PSP on Facebook here, and visit the store at 9725 Q Street.