2021 "Horrible Hundred" worst breeders in America includes 8 in Nebraska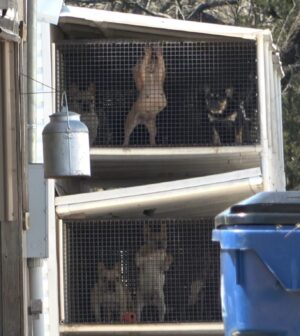 Each year, one of our most popular stories is about the Humane Society of the United States' "Horrible Hundred", the annual list of America's worst dog breeders. We're always glad to help spread the word about the horrors of puppy mills, but it's also disheartening. The newest list includes eight breeders in Nebraska.
Below, find a bit about the list, why the HSUS puts it out, plus access to the list with specifics about Nebraska's worst offenders.
From the HSUS:
The 2021 Horrible Hundred is a list of problem puppy breeders and sellers in the United States. Since 2013, the
Humane Society of the United States has published the report annually to warn consumers about common
problems at puppy mills and puppy selling dealers, including the brokers that sell to pet stores.
Documented problems at many of these facilities have included sick or injured dogs, inhumane and unsafe conditions, and a lack of protection from the heat and cold. Every year, HSUS researchers study hundreds of pages of reports and records to identify pet seller issues that the public should be aware of. But despite the significant problems outlined in this report, the Horrible Hundred is not a list of the worst dog breeders. There are approximately 10,000 puppy mills in the U.S., and many puppy mills are not inspected at all, thus no verifiable records on their conditions exist.

The HSUS shares this information with the following goals:

To inform the public and warn consumers about problem puppy sellers, especially those who sell online or through pet stores, concealing their operations from public view.
To urge government oversight agencies, such as the United States Department of Agriculture and state regulators, to live up to their enforcement obligations.
To encourage government decision-makers to properly fund and support humane law enforcement and oversight agencies, and to prioritize dog law enforcement.
To encourage policy-makers to pass stronger rules and laws to protect dogs.
If you are in the market for a new pet, please adopt! If you are going to use a breeder, do some homework, visit the breeders, and especially make sure to avoid the breeders on this list (and the pet stores that sell their pups).
Here's a quick summary given about the Nebraska inspections/breeders. See the link at the end of the article for the full reports.
Douglas and Mary Jane Brosh / Brosh's Kennels, Pender, Nebraska: State found dog "very thin" and required the licensee to take the dog to a vet; also found dirty conditions (repeat offender).
Brenda L. Carroll / Carroll Sell Farms, Plattsmouth, Nebraska: AKC breeder has had recurring issues with unsanitary conditions and/or humane care since 2013 (repeat offender).
Clem Disterhaupt Jr. / Ponca Creek Kennels, Spencer, Nebraska: Breeder with more than 225 dogs wasrated "unacceptable" twice during January 2021 state inspections due to matted dogs, dirty conditions, cages that were too small and more (repeat offender).
Clem L. Disterhaupt / Sandhills Kennel, Stuart, Nebraska: State inspector could not finish inspection due toalleged assault by breeder ("Inspector was unsafe and had to leave the facility […] Clem grabbed the camera"). Facility also had filthy flooring and was missing a veterinary plan.
Mark J. Griesman / Prairie Chesapeakes, Wood River, Nebraska: Dog found dead in February 2021 was suspected victim of exposure to below-freezing cold, "possible neglect;" state found "extreme sanitation issues" and repeated incidents of dogs exposed to severe weather, but state had allowed breeder to continue to operate until March 2021 (repeat offender).
Michael and Megan Kopf Jr. / Star Bullies, Dewitt, Nebraska: State inspector found a dead dog at AKC breeder's facility, told breeder to "remove the dead dog, and dispose in a proper manner."
Roy T. Schrunk / Rocking T Kennel, Friend, Nebraska: Breeder was found with dirty conditions for at least four years in a row; operation has downsized but state still finds unclean conditions at almost every visit (repeat offender).
Jo Ann Steiger / In God's Hands Kennel, Randolph, Nebraska: Repeated problems with dogs exposed to the bitter cold, poor maintenance and unsanitary conditions (repeat offender).