3 years, 64 applications, and 19K web views later, Stella finds her forever home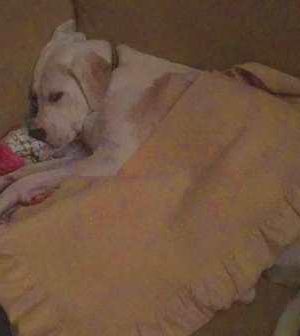 There's a long list of things we need at this moment in time, but we're afraid we can't satisfy many of them writing about pets. One thing we can do is share a feel-good dog story, so here's a bit of nice news.
Long term fosters are tough on rescues. Not only is there a financial commitment that goes on and on, but there's an emotional toll seeing an animal wait for such a long time. An animal displaced for months or years is no one's idea of ideal.
Stella had been waiting three years for the perfect home. "We went through 64 applications and, it looks like, in Petfinder, she's had over 19,000 views," said Rose Coco of Helping Hand for Animals. Stella spent her time waiting, kenneled at a boarding facility for far too long.
The happy bit of news that comes from knowing about 64 apps and nearly 20k pageviews is that the rescue can stop counting these things, for Stella is finally home.
Here's a Facebook message from Helping Hand that details the long journey (and short trip) to home for Stella:
"Sometimes what you've been looking for all along is right in your own backyard. That is literally the truth for Ms. Stella, who would have made a 3 year anniversary kenneled as a rescue dog this August…
Over those 3 years, Stella blossomed into a wonderful young lady.
Originally rescued by the now owners of The Barking Lot in Glenwood, Iowa, Stella was merely a year old when she was given up to be euthanized because she was prey driven around smaller animals and very dog selective.
She was bossy and nippy and full of misdirected energy. Her initial boarding facility didn't know how to handle her and, by his own admission, there were times he 'went off on her' (verbatim), because Stella was so exasperating.
However the staff at The Barking Lot knew exactly what Stella needed. They took her high intelligence and high-energy and redirected it. With much exercise and agility, under the guidance and structure offered from Follow Me K9 Training in Bellevue, they worked together to bring out what makes Stella an incredible dog.
After a neighbor lost their beloved companion, they decided to help The Barking Lot by having Stella go for car rides with them, and then some day visits at home, then some overnight stays which progressed to '…wonder how much it would cost to put up a privacy fence for Stella?'
Working together to put up a privacy fence designed especially for Stella, The Barking Lot is helping their friends and neighbors get Stella into her new forever home. She no longer lives at the kennel but but loves to visit.
Who would have thought that after 3 years, the Love Stella was looking for was only a few yards away?
The owners of The Barking Lot have shown such devotion to Stella and always had her best interest at heart through all the 19000+ Petfinder views and 64 applications that we processed over the three years for them. Helping Hand for Animals was merely there for the ride. This joyful outcome is clearly attributed Linda, Bruce and Stella. They never gave up hope.
We are honored to be a witness to such an inspiring story! Never Say Never!
Congratulations to Stella and her new Mom and Dad! Best wishes for many, many years of happiness!"
We're happy to offer at least one happy bit of news for our readers here at Pets in Omaha. Stay tuned for more… we'll surely share these stories as they find their way to us!