6 Tips for Organizing Your Dog's Birthday Party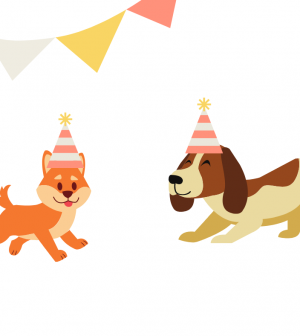 Is your dog's special day coming up? Do you want to ensure they have the best birthday possible? If so, why not throw them their own dog birthday party? It's a fun and engaging way to celebrate the day and show your dog just how special he or she is to the family. Of course, throwing a dog birthday party is different than a typical birthday party, and there are some tips and advice you can use to help ensure it's a huge success.
So, let's jump right in and go over all the basics for planning the best dog's birthday party ever.
Where Will the Party Be?
The first thing you'll want to think about is where your dog's birthday party will be. If you have a backyard space, then your own home may be perfect. If not, you may want to think about a local dog park or open green space. Obviously the location needs to be dog-friendly and safe for them to run around.
Who Will You Invite?
Then there is the guest list. If you're throwing a dog party, you want your dog's friends to be there, right? That could be your neighbor's dogs, dogs from the dog park that you see on a regular basis, family or friends' dogs, and so forth. Just be sure to send out the party invite with plenty of advance notice. This will guarantee a better turnout at the party.
Do You Want to Have a Theme?
It can also be really fun to have a theme for the birthday party. You can even ask that your guests show up in party wear, or costumes just to make it even more fun. This will also make for some really memorable photos.
What Activities Will You Have?
Sure, it's great to chat with the other people there, but what will the dogs do? You can plan for a variety of fun activities for them all of which can be centered on toys and playing. You could bring a bunch of balls, fly discs, maybe some obstacle challenges if your dog is into that, and anything else that you know would be fun for them.
How About Food and Drinks?
Of course, you can't throw a birthday party without food and drinks involved, but this time it needs to be dog-friendly. You might want to do a little research ahead of time on what the best dog food options are, and even include a couple different varieties for them to choose from. In terms of beverages, they just need plenty of fresh cold water on-hand.
Then there is the birthday cake, the main piece of food at any party. Obviously you're not going to give you dog actual cake, but this is where you can get creative. There are all kinds of homemade 'cake' recipes you can find online, or you can put your own unique twist on the concept.
Don't Forget the Loot Bags
Just like with a traditional birthday party, you want to be sure you hand out loot bags as your guests leave. There is no shortage of ideas in this category such as toys, treats, a new collar, a soft cozy blanket, food, a new bowl, and so forth.
Give Your Dog the Birthday Party They Deserve
Following each of these tips will ensure that you're able to plan the perfect style of party for your lovable dog, treating him or her to a special day. Just don't forget to also add some perfectly thought-out gifts into the mix for your furry family member.