April 26, 2014- Omaha Dog Park Advocates' Spring "Bark in the Park" Fundraiser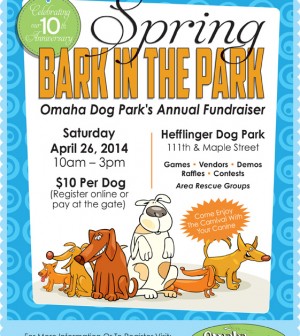 It's time to start planning for this year's Spring Bark in the Park, the annual fundraising event for the Omaha Dog Parks. This year's event will be held on Saturday, April 26th at the Hefflinger Dog Park at 111th and Maple Street from 10 a.m. to 3:00 p.m.
This year we will be celebrating Hefflinger Dog Park's 10th Anniversary. Help us celebrate the thousands of dogs and their owners who have visited and enjoyed our park since 2004.
To continue to make improvements to our parks, and to possibly add more dog parks in Omaha, we rely on donations from our fine supporters across the city. And our biggest fundraising event each year is the Spring Bark in the Park.
Please plan to attend for a day of fun for both you and your dog. Plenty of canine-related activities, including Paw-casso, Splat the Cat, Tic Tac Paw, Hide-a-Treat, Bobbing for Dawgs.
There will be a large number of exhibitors from area businesses and rescue groups to visit with. Plus, we'll have raffles throughout the event so you can win lots of cool stuff!
Please take a moment right now to register for this event. Pre-registration is just $10 per dog. We are also looking for business supporters and vendors for the 2014 Spring Bark in the Park. As a non-profit organization, Omaha Dog Park Advocates relies solely on volunteers and donations. To donate, register or find out how you can be a part of the yearly fundraiser, click here to visit the Omaha Dog Park Advocates' Web site. Click the image to the right for more information also.