Aug. 9, 2014- Mokie and Kade book launch at The Green Spot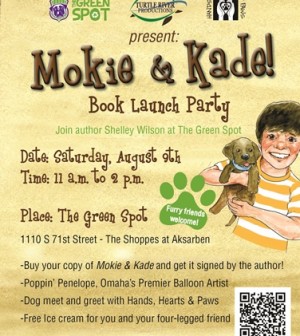 Book Launch Party info for Shelley Wilson's first two installments of the Mokie and Kade series:
On Saturday, August 9, 2014 from 11 a.m. to 2 p.m., Shelley Wilson will be at The Green Spot in Omaha to celebrate the release of her books Puppy Love and Backyard Adventure from the children's Mokie and Kade series. Mokie and Kade are a boy and dog team who fall in love, find friendship and go on adventures!
The Green Spot is located at 1110 S. 71st Street (southeast corner of 72nd and Pacific) in Aksarben.
Bring your furry friends, purchase books, get them signed and enjoy all the festivities! Hands, Hearts & Paws will also be at the event with adoptable animals and information about choosing and caring for the right pet. Poppin' Penelope, Omaha's premier balloon artist, will be there to create fun balloon animals. People can enjoy ice cream and dogs can, too! The Green Spot will be providing doggie ice cream for your pooches.
For more events featuring Shelley Wilson and her new books, check out her Web site here and her Facebook page here.