Bellevue PD has a new Goldendoodle Officer- Mo, the therapy dog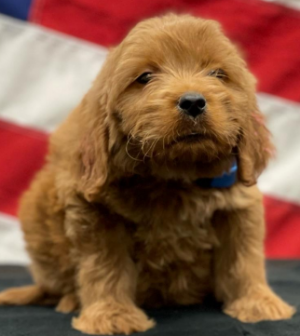 Having a therapy dog is not a trend anymore it seems, but a requirement. We've shared stories from multiple police and fire departments, hospitals, and even a dentist that have utilized trained pups to help, comfort, and support team members and clients.
The latest story we've seen was in the Omaha-World-Herald today and details the addition of "Mo", a Golden Retriever/Doodle (Goldendoodle). Here are a couple of notes from the story:
-The puppy will start working with an Omaha-based trainer next week, said Bellevue Police Sgt. Howard Banks. Mo will train weekly with his soon-to-be handler, Officer Ashley Meyers. 
-The addition of a therapy dog has been in the works for a few months, Banks said. Department officials looked at breeders and sought advice from other agencies that use therapy dogs.
-The dog's main job will be to offer emotional support to officers and residents during traumatic events, interviews or community outreach events.
-The pup was named after Colorado State Patrol Master Trooper Will Moden who died in a line of duty.
Welcome. Mo! Good luck with your new trainer, family, and team.