Bogie needs a special family. Know someone? Can you be the help he needs?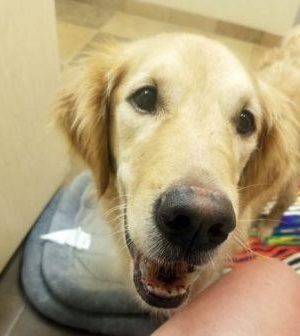 Over four years ago, we featured one of our favorite local rescues on Pets in Omaha, Golden Retriever Rescue in Nebraska (GRRIN). It's great and they'll be at this weekend's Pets in Omaha Pick a Pooch Adoption Days (click here for more info on that event) for you to meet volunteers and adoptable animals.
Soon after introducing readers to GRRIN, we featured a very special pup, Bogie, who needed a compassionate and dedicated family to help him manage his physical challenges. Luckily, he was adopted by some great people. Unfortunately, however, his adoptive family was unable to keep up with Bogie and he was returned to GRRIN just a few weeks ago.
Bogie and GRRIN needs help once again and we're hopeful that someone out there can answer the call.
Bogie is paralyzed in his hind end and is incontinent. He has been undergoing treatment for an infection at VCA with the end goal of having a surgical procedure that will make emptying his bladder much simpler. "While he is very comfortable staying at the vet's office," said Barbara Garrett of GRRIN, "we would love to find him a foster home that can manage his care (which currently includes catheterization) until his infection is gone and he's cleared for surgery." Of course, if the foster home wanted to continue caring for him, that would be a bonus!
Bogie is the most delightful dog- the poster child for the sweet Golden demeanor- and craves human companionship. He does get around quite well; in truth, GRRIN believes the care needed for his incontinence (which includes lack of bowel control) is the one thing keeping the rescue from finding a place for him. Not every home, despite their best intention, can provide the care Bogie requires.
Garrett and Pam Nathan, who is Bogie's case worker and also a board member who can make decisions for him, are available to answer questions about his specific medical needs. They are both available to field questions from potential adopters and to reach out to those who think they might be able to help Bogie, too. The team has been trying to work with a few local rescues without success to this point.
Here is Bogie's current biographical information on GRRIN's web page: http://grrin.org/adopt/15-04-bogie/
Please contact Barbara Garrett, GRRIN President, via email (bgarrett1492@gmail.com) if you've got any leads or interest in helping. Pam Nathan can be reached at gretalillygarbo@gmail.com.