"Bumper" the hitchhiking cat adopted after wild ride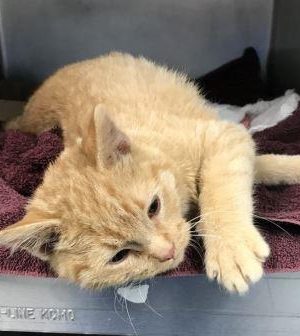 Through today's Omaha World Herald, we met Bumper. After an exciting road trip, he's starting a new and (hopefully!) less dangerous journey with a new family thanks to the Earnest family and Nebraska Humane Society.
After his adventurous ride around town, he's been altered, chipped, and adopted at the shelter. Here's what happened on his way to his new family:
Jene Earnest saw a kitty prowling around the Tractor Supply parking lot while she was buying feed for chickens. Before leaving the lot, she revved the engine, took a look around, and hoped she'd spooked the cat away had he nestled under her car.
When Jene arrived at her next stop- five miles south to 84th and Highway 370- she exited her car and heard frenzied meowing coming from beneath her car. Afraid to look, she was relieved to see a twitching tail and then a safe kitty hanging out near the spare tire under the car.
Bumper was retrieved, put in a box, and later made his way to the Nebraska Humane Society as its officers transported him from the Earnest home.
What a wild way to find his way to the shelter! We're thankful he's made it there and to a new family, considering what his other outcomes could have been. If you're looking to adopt a kitty, click here to see available felines at the Nebraska Humane Society now.