CaptureMe3D's Keepsakes of People and Pets Capture Special Moments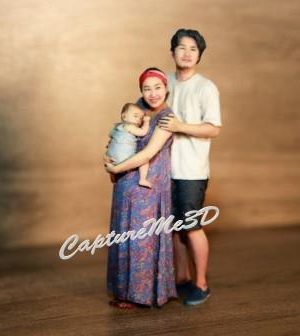 We love all our Pet Partners because they help us spread the word about adoptable animals, pet news and information, and humane organizations working to find homes for displaced animals.
One of our latest Pet Partners is CaptureMe3D, a local and unique company that helps you freeze your special moments and people in time forever. How's that? Read about CaptureMe3D below and check them out on the web here.
"If you could put yourselves on top of your very own wedding cake, would you do it? Why give that place to a stranger?" asks Ruth Duncan of People & Pets in 3D/CaptureMe3D in LaVista, NE where she and her husband take 3D pictures and turn them into forever 3D Keepsakes of People and Pets. With a specialized 3D photo booth, the first 3D booth in Nebraska, now you can turn yourself into a 3D keepsake capturing a moment, freezing it in time forever.
Denny and Ruth Duncan started CaptureMe3D last December with a dream that someday people would understand their truly unique idea of giving people tangible 3D Keepsakes instead of just pictures.
"The difference between us and the competition," Ruth said, "is we are in your backyard; otherwise you would have to travel many miles to get something like this.
CaptureMe3D loves in customers, both people and pets. "We are pet lovers, rescue supporters, service animal supporters, and we understand the power of a pet," Ruth said. You'll see Maddy (the best Shipoo who gives amazing hugs) within their store from time to time. "We understand pets bring so much to a human life and we are all about helping to create the memories. A pet's love touches each owner deeply and cannot be forgotten, they are our family."
The Duncans have had many pets and enjoy reminiscing about each. "Some," Ruth said, "leave larger marks on our hearts, but all are loved extensively." The couple lost a two-year-old Yorkie tragically, and understand that humans are not always in control of when pets reach the Rainbow Bridge.
Not everyone understands what a 3D Print/Figurine is or what the benefits are of having a 3D Keepsake over a photograph. CaptureMe3D can share unique personal experiences that changed their outlook and the benefit of a 3D vs just a picture was manifested.
In August 2018, Ruth lost her father to Alzeheimer's/Dementia Disease.  "Our business was in the beginning stages, so we were not able to share it with him and get a 3D Keepsake of him prior to his death," she said. "Denny and I would give anything to hold our lost loved ones in our hands today. A 3D Figurine is a tangible item you can touch and see, it means so much to be able to look at the person or animal sitting on our shelf… that moment frozen in time forever!"
"Our mission is to help those left behind with a Keepsake to remember the love, preserving the journey of life and giving tangible Keepsakes to cherish forever."
If you're wanting to see what CaptureMe3D can do for you, follow "People and Pets 3D" on Facebook and Instagram. There you'll find the latest specials, too. Visit their website, and see the Products, Pricing, Specials, Hours of Operation, and Appointments pages.  You can always contact the Duncans directly at 402-597-2694 or stop by the store in La Vista- 8084 South 84th Street- during normal business hours.
The Duncans will be at a number of upcoming events, including the Pets in Omaha Pick a Pooch Adoption Days and Pet Expo.
Ask about the current special on 7" Full Body Prints!