#ClearTheShelters in Omaha and Nationwide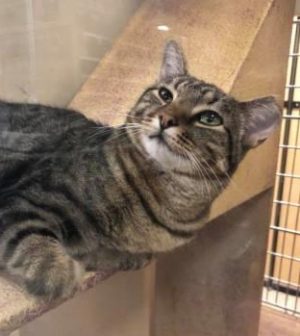 NBC and Telemundo owned stations teamed up with hundreds of shelters across the country to host Clear the Shelters, a nationwide pet adoption drive on Saturday, August 17 to help find loving homes for animals in need. Shelters like the Nebraska Humane Society participated, hoping to add to the more than 250,000 pets who have found their forever homes since 2015.
Zoomer the cat, pictured above, celebrated #ClearTheShelters at the 72nd and Sorenson PetSmart – he's just one of the many cats, critters, and dogs who hoped to be adopted today, NHS said. The shelter urged adopters to head over to any Omaha or Papillion PetSmart to check out the cats and critters, and then go to the shelter to meet adoptable dogs.
For the Clear the Shelters event, NHS was running specials on nearly all of its animals. Cats that are 6 months and older were free, and kittens were two for the price of one ($75). Dogs more than one year old were $50. Critters were regularly priced (super cheap anyhow).