Congrats to our Pet Partners on Best of Omaha Awards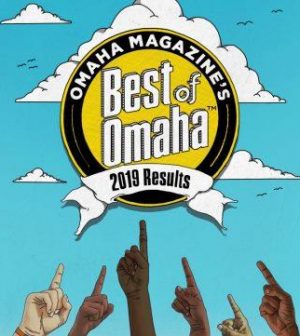 The Omaha Magazine Best of Omaha Awards have been announced for 2019 and we're glad to know some of our Pet Partners- the businesses that keep Pets in Omaha going- have joined (or remained in) the Winner's Circle!
The Magazine encourages area consumers to vote for their favorite and most-trusted business choices each year and awards three businesses with the Best of Omaha tags (a Winner, a First Place, and a Second Place) in these categories: Dining, Family, Health & Beauty, Household, Nightlife, Retail, Services, and Transportation. Click the links above to take a closer look at all the winners.
Here are the award winners who graciously give their support to Pets in Omaha:
Kangen Water – Best of Omaha (Water Treatment Systems)
Nature Dog, The Green Spot, Long Dog Fat Cat (Local Pet Store)
McKinnis Roofing (Residential Siding)
Woodhouse Auto Family (Used Car AND New Car)
Dharma Dog Training (Dog Training)
The Paw Spa Pet Resort (Pet Boarding, Dog Day Care)
Dogtopia of Omaha, Bark Avenue Omaha (Dog Day Care)
Congrats to the Best of Omaha businesses! If you'd like to learn more about how your business can help up celebrate rescue and shelter groups, educate the public on issues important to homeless animals, and promote businesses that love their pets, contact Lee Legenhausen, our founder, at cyberlee3@cox.net.
Thanks, once again, to our Pet Partners. We couldn't do what we do without their support.