Consumer and Animal Protection, or something else? Pet lovers don't support Legislative Bill 392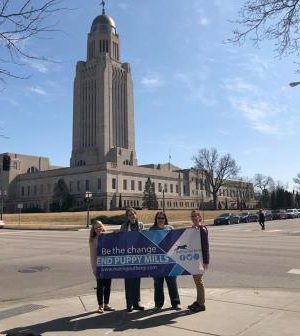 A legislative bill introduced by Nebraska State Senator Suzanne Geist does not have the support of animal advocates.
"This bill is being presented by Sen. Geist as a law to protect consumers," said Secretary of the Nebraska Rescue Council Jocelyn Nickerson, but she's got questions about its real intent. Read the bill's introduction here.
Section 6 of the bill, introduced on Jan. 17, 2019 and currently referred to the Unicameral's Agriculture Committee, states the following: "No municipality shall (1) adopt, enact, or enforce a local law, ordinance, resolution, rule, or regulation having the force of law to regulate or prohibit any activity governed by the act or (2) interpret or apply any law of general application to circumvent any provision of the act."
This means every City, Village, Town, etc. in Nebraska will be prohibited from creating policies to inform consumers and/or better protect puppy mill dogs sold through pet stores. Rescues that constantly fight for transparency and the protection of animals (and the people who buy them) are opposed to having less to say about what has to be said regarding animals sold in pet stores.
An ordinance to regulate the information provided to consumers and/or the sale of dogs from a pet store would limit rescues' ability to make it known where these animals come from. Nearly all animals sold in stores come from commercial breeding facilities.
Senator Geist has not responded to a request for comment/clarification on the bill from Pets in Omaha.
A recent email from the Nebraska Rescue Council reads:
This overreaching bill, introduced by State Senator Suzanne Geist, will prevent local governments from creating policy to protect consumers from purchasing sick and abused puppy mill dogs. This type of legislation has been defeated throughout the US over the past several years. But now, the Petland-backed lobbying firms have their sights on Nebraska. Petland, who was successfully pushed out of Nebraska, wants to tell us how to manage our local policy. They want to deliberately protect puppy mill owners and confuse families who want to add a furry friend to their family. This legislation is disguised as a consumer protection and animal welfare bill, when in fact it is the opposite!
We'd like to know why Senator Geist has chosen to bring a bill forward for a company without ties to our great state and to completely undermine the wishes of her own constituents who care about the thousands of dogs stuck in puppy mills. Please contact Senator Geist now! She can be reached at 402-471-2731 or at sgeist@leg.ne.gov. Tell her that Nebraskans stand together against animal abuse and political power grabs.
If citizens are interested in learning more about how legislative bills work, about the senators who represent them and animals, or how to get more involved in the politics that effect animals and their advocates, Nebraska Humane Lobby Day on March 18, 2019 is their best chance.
Click here for details on the event.