Do You Know How Often to Take Your Dog to the Vet?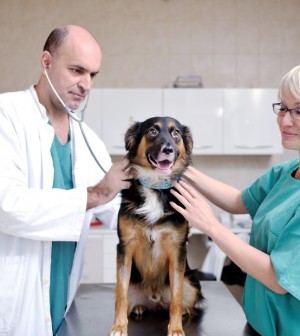 You take your pet to the vet for its annual check-up – but is this enough?
How frequently you take your canine companion for a vet's appointment depends on many factors, including your pet's age and his overall health status. Puppies and older dogs need to visit more regularly, for example, while a healthy middle-aged dog may not need quite so much care. But it's best not to be complacent. Regular vet visits are vital for your dog's wellbeing.
Discover when to take your pet to the vet and what tests and checks your dog may require in this quick pet health guide.
Early Vaccinations
Dogs need extra care when they are puppies, just like human babies. You're sure to be familiar with your vet's office by the time your pet is ready to take walks with you outside. The basic vaccine schedule for young puppies is the first DHLPPC vaccine at around age six to eight weeks. This is a combined vaccine. It provides protection through boosters throughout the year. The second shot is at 10 to 12 weeks old. Your dog also needs a rabies shot and a third shot of DHLPPC at about 14 weeks.
Veterinary vaccinations are essential for dogs but many people still overlook this vital need. According to the UK's PDSA, 25 percent of dog owners in the UK report that their canine hasn't received their primary vaccinations – this adds up to around 2.2 million dogs in Britain. A worrying stat. 
Don't be one of these dog owners – ensure you get your pet off to the best start by investing in their vaccination schedule.
Booster Vaccinations
Dog vaccinations don't end as your puppy grows into a boisterous adult dog. You'll still need to keep up with the vet visits as they age. At this point, your vaccine appointments are typically combined with a wellness exam. These usually occur once a year. Your canine may receive a rabies booster at the first wellness check. Rabies may also need to be updated in the future, depending on where you live.
<INSERT IMAGE: [Dog Animal Portrait – Free photo on Pixabay]>
Annual Dog Wellness Exams
An older dog normally visits the vets for an annual check.
If you're worried about the vet's bill for annual check-ups, consider adding wellness checks to your cover. Bear in mind that when it comes to pet insurance preventive care is not always included in the price of the premium. Check carefully to see what you get in terms of wellness exams and vet visits for your dog.
This wellness once-over includes a full check-up, a dental examination, vaccine updates and boosters, a flea check, ears and eyes exam, and a heartworm test, among other minor procedures. The vet also asks about the dog's overall health and behavior, as well as any concerns you have about your pet.
Wellness exams are a vital part of your dog's overall preventative care program. Preventative care means all the caring things you naturally do for your dog on a regular basis. For example, you provide nutritious food, take her on walks, and take her to the vet.
Senior Dog Care
Senior dogs, in particular, benefit from regular pet wellness checks. Older dogs need the extra special love that regular vet visits provide, so don't stop going just because your pet is no longer a puppy. Older dogs need a vet visit around every six months to be on top form for their age. The vet may recommend specialist checks or treatments depending on her needs. They may also need extra attention for issues like obesity.
Seeing a Vet Urgently
Unfortunately, there are times when you need to get your pet to the vet right away. Take them to the canine ER if they have suffered any injury, including being hit by a car or an object. Go immediately if they are not breathing, are having problems breathing, or have been vomiting for more than 24 hours. Take your dog to get checked if they may have broken a bone or have eaten something they shouldn't.
What You Need to Know
You know your dog best and you always have their interests at heart. Trust your instincts when it comes to providing emergency vet care for your dog. And put a preventative wellness plan in place to ensure your dog grows older healthily and happily – just as they should. You really can't visit the vet too often – they are there to help and support you and your pet.