Dog-Friendly Comedy with Aubree Sweeney – Aug. 2 Event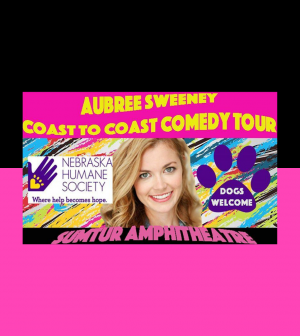 On Sunday, Aug. 2, 2020, you've got an opportunity to get outside, enjoy some fun, and stay safe with dog-friendly comedy from our friend, Aubree Sweeney!
At 7 p.m., SumTur Ampitheater in Papillion will host Aubree's latest event, part of her Coast to Coast Comedy Tour. Details can be found at this Facebook event page.
The event is brought to you by the Nebraska Humane Society; here are some more details on the FREE event:
Aubree Sweeney is hosting a free comedy show at SumTur Ampitheatre on August 2nd …and you can bring your pooch! SumTur is an open-air ampitheater with some seating and plenty of grass for social distancing. Grab a lawn chair and leash up your doggo for a performance under the setting sun. Limited concessions and libations will be available with all tips supporting NHS animals. Come enjoy a comedy show and bring your pooch! *Doors open at 6:30.