Dogs love local, organic, frozen treats from DogGurt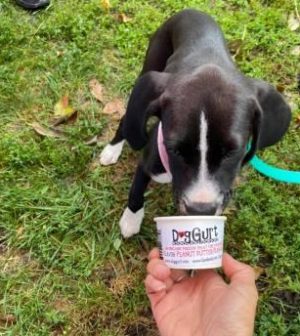 Amanda Colanino, owner of Omaha's DogGurt, didn't know what was in the frozen dog treats she was giving her dogs, Jack and Bella, and though the pups loved them, Colanino wanted to develop her own healthy recipe.
DogGurt is a healthy, organic frozen treat your dog will love, and they are handmade in Omaha with human-grade, organic ingredients.
​
Yogurt, the base ingredient, contains live active cultures with the benefits of probiotics. High in calcium and protein, with no sugar, fillers, or preservatives added, DogGurt treats are products that will give health-conscious pet parents peace of mind.
Colanino has always had a passion for animals, especially dogs. She is an only child who spent her childhood with Standard Poodles as my siblings.
"I always knew I wanted to do something with animals as a career, and it just so happened my friend's dogs loved DogGurt, too," she says on her website's About page. When she learned so many dogs loved the treats, she decided to take the leap and make DogGurt her livelihood.
Colanino also loves going to events. She enjoys meeting dogs and their humans who love DogGurt as much as she loves making it.
​When she's not mixing up DogGurt, she's fostering for Little White Dog Rescue, camping in Colorado, or hanging out with her pups.
Did you notice the DogGurt truck out and about town? Want it to attend your pet event? DogGurt has a number of frozen treats to serve pups at your party. It's the ding-ding man for dogs!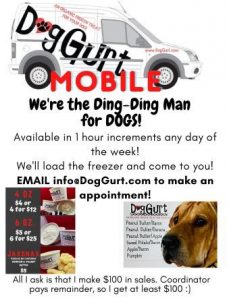 Want to know more about DogGurt? Check out the links below!
DogGurt products can be found at this website: https://www.doggurt.com/ .
DogGurt comes in various product sizes and flavors, plus DogGurt offers merchandise and DogGurt infused with CBD oil!
Check out where you can buy DogGurt at live and local events by following on Facebook! Click here to see upcoming events.