Event: June 25 Green Spot Fundraiser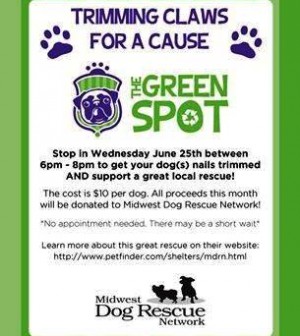 On Wednesday, June 25, 2014 from 6 until 8 p.m., stop in at The Green Spot Omaha (southeast corner of 72nd and Pacific) to get your dog's nails trimmed AND support a great local rescue during the "Trimming Claws for a Cause" event.
For $10, your dog's nail will be trimmed and proceeds will donated to the Midwest Dog Rescue Network. There is no appointment needed.
If you'd like to learn more about The Green Spot, click their banner on our Directory page. For more information on the Midwest Dog Rescue Network, click here.