Every Pet Owner Should Have These Home Cleaning Products to Save Time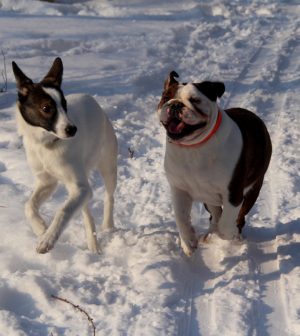 Alyssa Winters, guest contributor, would love to let you know how to keep your home efficiently clean. Check out the tips below and tidy up!
Pets love us unconditionally. They generate so many emotions in us. Having a pet is like having someone who would always welcome us with love and affection, no matter what. With all those licking and cuddles, comes the messes they make.
A house with pets needs more cleaning than those without them. Besides shedding hairs, they bring dirt in the house. This makes cleaning a tiresome job. Well, what if we told you, cleaning your pet mess won't be that difficult. Astonished! Don't be, it's true.  You just need to have efficient cleaning products.
7 cleaning products that every pet owner should have
A Steam Mop
A steam mop is a necessary device for every house which has a pet. Pets beside carrying dust and dirt also carry germs and bacteria with them. A steam mop, not only cleans the hairs and other mess created by pets but also keeps the house germfree and bacteria-free.
A Quiet Vacuum Cleaner
A house with pet demands constant cleaning. Hence, buying a vacuum cleaner can be of great help. Your pet hairs get stick to all the household things- sofas, clothes, carpet, etc. For this, an ordinary vacuum cleaner won't be sufficient. Check out a good quality vacuum cleaner which has the power to extract hairs from each and every corner of the house that too without clogging the device. Also, remember to look for a silent vacuum cleaner as this will help you clean the house without creating any noise pollution and disturbing your adorable pets.
Feather Duster
Using Feather duster is an easy way to get rid of dust and pet hairs. You can go for a feather duster which can reach the corners and helps you clean your house.
The Best Pet Stain and Odor Remover
Pets bring happiness in their owner's life. Their unconditional love brings joy and happiness in the house. Sometimes, they do get into an accident and result in creating messes, which may result in stains and sometimes smell. You never know when such a situation happens, so you should be prepared to face them. Hence, having a pet stain and odor remover is a must. It's said ' faster you work on the stains, higher are the chances to get rid of them.'
A wide range of pet stain and odor remover are available in the market. Check out the available range and select the best product available. You may also select an environmentally friendly stain and odor remover. This way, you can also contribute to keeping your environment clean.
Need help getting rid of bed bugs? Stay safe and visit https://www.organiclesson.com/get-rid-of-bed-bugs/ for some great info.
A Pet-friendly Laundry Detergent
For any pet owner, doing laundry becomes part of their daily routine. Besides washing your own clothes, you need to look after your pet's clothes and bedding. Pets skin is quite sensitive hence buy a laundry detergent, which is natural and does not harm your pet. A good pet laundry detergent would not only keep your pet clothes clean and remove the odor but also keep them healthy.
Click here if you're looking for an end of tenancy cleaning in Chelsea.
The Best Pet Hair Remover:
For any pet owner investing in a good pet hair remover is a must. Shedding of hair is a natural process in both cats and dogs. You just cannot control it. However, a good pet hair remover would help you in removing pet hairs, dust particles, dirt dander, etc. from your clothes, etc.
A Multi-purpose Cleaning Spray
A multi-purpose cleaning spray becomes very handy for keeping the house safe and healthy. You can use these cleaners to clean almost every surface of your house (windows, bathing tubs, etc.). Weekly cleaning of the house using these cleaning sprays would keep the house germ free and healthy.
Keeping the house clean is essential for you and also for your pet. Try to use cleaning products and devices which are pet-friendly. This would keep your pets healthy. If you are planning to get a pet but worried about the mess associated with them, don't be. Just get the above-mentioned cleaning products to make life easier for you.