First State Bank- 100+ years of reaching goals, loving pets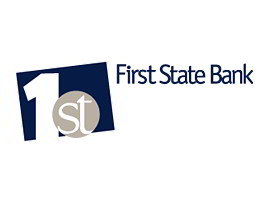 As a bank, First State Bank has served its customers in Nebraska for over a century. With its priorities being excellent customer service, helping people reach their financial goals, and being an active part of the community, the bank wants you to know that its customers always come first.
On First State Bank's website, one can see a picture of its Gothenburg, NE bank in 1906. That building was remodeled and expanded in 1958 and updated once again in 2006. Today, the bank is a vital part of the community and it still serves customers more than 100 years after its opening. With branches in Gothenburg, North Platte, Mullen, Wallace, and Ralston, the bank has grown with its customers.
While customers enjoy personal, business, and online banking (plus mortgage, insurance and investment services), the Bank is proud to offer more than just financial services and goal-reaching.  "Like most banks, the customer relationship is key," says Derek Randecker, CIO and Market President at First State Bank, "but we really become a partner to our customers and provide quick results. This has provided us with great referrals from our current customers and is one of the best compliments we can receive."
While customers love the personal attention and partnership, their dogs love being "Pet Partners" of the bank. "Many of our staff members have pets and we always enjoy it when customers bring their pets through the drive-up or even in our lobby," Randecker says . "We always have treats ready for them."
The best perks for pets are obviously the treats and friendly faces. Among the best for customers is a Secure Checking Account. For anyone concerned about identity theft or currently paying for a monitoring service, First State Bank encourages taking a look at the secure account. It includes monitoring service plus many other benefits like phone insurance and local coupons. Along with this service, customer relationships are what First State Bank uses to differentiate itself from others. A food truck outside its Ralston location is also a difference. Through the Fall and starting back up regularly each Wednesday in the Spring, customers find a unique lunchtime opportunity while visiting their bank.
If you are looking for banking, retirement, or real estate finance options, First State Bank would love to tell you why it should help you with your goals. Visit the bank's website here, plus follow on Facebook and find it on Twitter (@1stStateBank).