Florida Greyhounds are done racing, but where do they go now?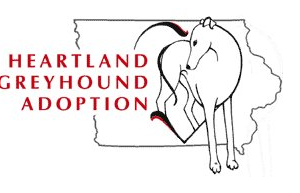 Just like when Iowa shut down its allowance of dog racing a couple of years ago, Florida voted this primary election to kill the practice. For animal advocates, that's welcome and overdue news.
A question left to answer, though, is Where do the racing dogs go now?
Heartland Greyhound Adoption, one of the great animal advocacy groups and humane organizations in our area, is stepping up to help the recently-retired racers from the Sunshine State. The burden will be great and adoption facilitators need your help.
In a recent Facebook post from the group, Heartland Greyhound Adoption initiated its call for animal lovers to help with the process of transitioning the dogs to domestic life, saying: "At the moment we are in the planning stages. Working with the folks in the greyhound industry and with other adoption groups to coordinate the task at hand." Securing foster homes for the animals is priority number one and the greatest need.
"We will need help from you, our community," the group said. "We will need foster homes, and more foster homes. The more places we have to host dogs, the more dogs we can help." Racing will be phased out in Florida in the coming months, so the trickle of canines to rescue/adoption organizations will be gradual, but there's a need now- especially in preparation.
The group understands that not everyone can take on a new foster. If you want to help but can't bring a dog into your home, Heartland Greyhound Adoption wants to know what you can do. "Let us know what you can and will do," it said. "Be specific. What skills and abilities do you have?" It's clear the group is hoping for an all-hands-on-deck kind of response.
Stay tuned to the situation, the group says. "In the coming days, weeks, and months we will know better what we need."