Foster needed or rescue can't happen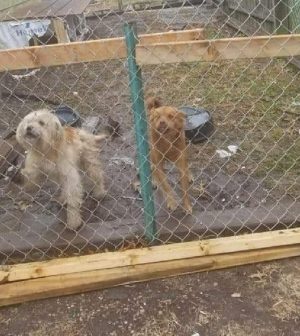 Midwest Wheaten Terrier Rescue has two dogs it is in a position to take into its care, but can't. Currently, a foster home is needed in order to initiate rescue. Here's a message from the Rescue:
We have been made aware of a really sad situation near Kansas City, MO. These 2 girls are living outside, in awful conditions. We are told both are around 25 lbs, very sweet and friendly. Brown is 10 months old. Not sure of the age on the other girl, who appears to be a Wheaten or a Wheaten mix. We are told the girls are good with other dogs, but we unfortunately don't have much more information. We do know they don't deserve to live like this, and they need help. Their owner is in failing health and an ambulance had to be called.
The situation is only made worse by the cold weather we're experiencing.
The only way we can help them, is if we have a foster home or homes for the girls. If you can foster, please complete a foster application on our website:
https://www.midwestwheatenrescue.org/donate