FREE vet care provided to animals rescued from the floods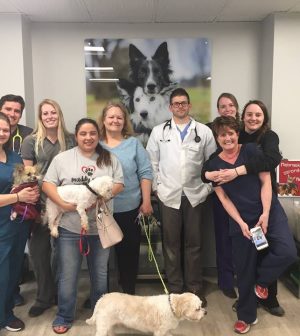 Local rescues have been inundated with animals needing relief after recent flooding in our area. We've told you about various heroic efforts, donation drives, and other flood-related stories, and here's another that's making the news tonight.
From Muddy Paws Second Chance Rescue and its Facebook page tonight (March 27, 2019):
Today, Dr. Fred Petersen and the staff of Westgate Animal Clinic along with Dr. Dan Annin sponsored a Nebraska Strong Animal Flood Relief Vaccine Clinic for local rescues. For 2+ hours the clinic was open only to rescue groups and this incredible team saw to the needs of 35 dogs and cats – most of them from Muddy Paws. Their time, vaccinations and fiv/felv tests were all free – and heartworm tests and any necessary medications were provided at their cost.
At this time when Muddy Paws has incurred so many expenses due to our intake of so many animals from the flood these kind and gracious people took a huge financial burden off us. And the only way we can repay them is with a HUGE THANK YOU.
If you'd like to know more about the team at Westgate Animal Clinic you can find them at https://bit.ly/2UcRwtD and follow them on Facebook (https://bit.ly/2U2zZEY). Dr. Annin can be found at Papillion Animal Hospital (http://papillionanimalhospital.com/) and on Facebook athttps://www.facebook.com/PAHvet/.
What a great gesture by the generous doctors! Thanks to them and thanks to the rescues for getting animals the care they need after their tumultuous time in the flood.