Friday Five: North Carolina baseball has a golden retriever teammate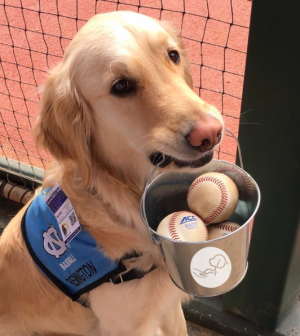 Omaha baseball fans have surely seen the North Carolina Tar Heels play in any number of recent College World Series tournaments lately. And if they weren't the fan favorite in any of those previous years, maybe 2018 will prove to be their year.
All teams have a mascot and many times it is an animal. There are schools that care for a representative of their mascot's population (Louisiana State has a tiger, Colorado has "Ralphie" the buffalo), but North Carolina's baseball team has gotten more personal with its chosen mascot.
Remington, or "Remi" as players say, is a golden retriever that attends to baseball players recovering from injuries. Yes, Remi is a teammate and what a teammate he is! His official title is psychiatric medical alert facility rehabilitation service dog, but to the players who rely on him for a little extra to help them get through a surgery or recovery period, he's much more. From the looks of the photo here from Instagram, Remi is also a ball shagger!
We've seen therapy and service dogs (and other animals) become much more popular in recent years, so a baseball team utilizing a professional healer like Remi is no surprise. And if we may say so ourselves, we hope the trend continues to grow as we all realize the emotional benefits these animals can provide.
If North Carolina makes it to Omaha in 2018, we all hope to see Remi. We're not sure if the pup will make the trip, but players will have Remi to thank for a part of their success either way.