From freezing like a "Popsicle" to the lap of luxury, this is one lucky kitty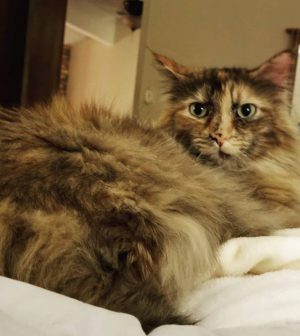 Last week, we reported on "Flurry," the black cat thawed and rescued by the Nebraska Humane Society (NHS). If you missed that story, click here. That story reminded us of another freezing feline we wrote about four years ago, Popsicle, and the danger cold presents for so many kitties during these frigid months of the year.
Flurry is getting stronger each day under the care of NHS. So, we wondered, how's Popsicle doing these days?
"She's doing great!" said Popsicle's foster mom and eventual adopter, Dr. Deborah Hoffnung.
Hoffnung fosters for the Humane Society and Popsicle came home with her for hydrotherapy and bandage changes when the shelter was still trying to see how much of Popsicle's feet and tail it could save. After three months with her foster mom (and several surgeries), Popsicle became Hoffnung's third "foster failure," making her foster home her forever one. "I couldn't give her up," Hoffnung told Pets in Omaha.
"Pops" or "Poppers," as her mom calls her, wound up losing her back left foot, the toes on her back right foot, and half her tail to frostbite, but it doesn't slow her down. "She plays with one of my cats and chases after the other, climbs to the top of the cat tree, and gets into anything and everything that interests her. She's turned into a beautiful and very sassy young lady!" Hoffnung said.
It's a brutal time of year out of doors and stories like these of frozen keeters make no one happy, but we're thrilled to hear Popsicle is warm and safe with her new family. Flurry and Pops are able to have their stories told thanks to the rescue efforts of Good Samaritans, adopters, and the NHS, for which they are grateful, surely.
To support the Nebraska Humane Society or to learn about fostering, click here.