Grand Reopening set for July 1, 2021 at the Nebraska Humane Society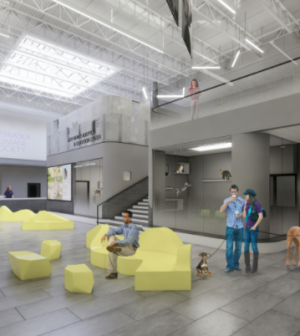 Since opening the Lied Humane Center building in February of 2000, the Nebraska Humane Society has served more than 450,000 animals that required surgeries, shelter, grooming, training, rehabilitation and more to get back on their feet.  To stay at the top in its field, and to honor long time CEO Judy Varner, key donors funded a $14.1 million endeavor, named The Judy Varner Adoption and Education Center. The work began in December of 2018 and was completed during the pandemic. 
The Nebraska Humane Society  will reopen its newly renovated adoption space July 1, 2021.
During the pandemic, all of adoptions have been completed via online appointment, so the shelter is excited for adopters to get to browse again, said Pam Wiese of the Nebraska Humane Society.
"It's a cool new space, with a new upstairs for kitties only, new quieter kennels for dogs, and rooms for critters that visiting dogs can't access."
Among the new additions are an added 12,000 square feet of new animal housing space, free roaming group rooms for cats, the "cat village", new kennels, lighting, and space that will reduce the stress on animals and shorten their stay, and better access the public has to all animals.
There are also improvements made with human visitors in mind, including technology upgrades that help adopters communicate with staff and choose the right animals.
Stay tuned for more on the shelter's new digs! Also, be sure to visit the Nebraska Humane Society during the 2021 Pick a Pooch Adoption Days. Click here for more information about the event from Pets in Omaha in July at Baxter Arena.